Yurtopia > About Us
Official Yurtopia Press Release
TheYurtopia.com: Yurt-Inspired Products and Apparel for the Free Spirited
When Anna Oakley first discovered the yurt, she knew she had to have one. Most people don't know what a yurt is. But once they learn about the yurt, it's difficult not to be charmed by the circular domed dwelling that is portable and self-supporting. Originally used by nomadic Mongol and Turkic people of central Asia, it is now used as an inexpensive alternative or temporary dwelling. "I consider myself a yurt freak," Anna says, "but I realized there were no yurt-related items available to express my Yurt Love. So, being a graphic artist, I decided to create them myself."
In September 2007, Anna founded Yurtopia, an online store where she sells her originally designed apparel and products to yurt-dwellers, yurt-lovers, or anyone who lives - or aspires to live - off the grid. Her basic design caters to men, women, and children with the "Yurt Daddy/Mama/Baby" series. Some of her more humorous shirts read "Yurt Place or Mine?" and "Build Your Own Damn House." The sayings are even as simple as "I Love Yurts" and definitions of the traditional vs. modern yurt.
There are thousands of yurts all over North America being used as residences, offices, and studios. Yurt vacation lodges have sprung up in New York, California, Alaska, North Carolina, Hawaii, Texas. These yurt resorts have names such as "El Cosmico" and "Uncommon Journeys," appealing to free-spirited travelers. But even the most free spirited of folks can appreciate - and will be happy to purchase - a witty t-shirt.
Yurt manufacturing companies such as Colorado Yurt Company, Little Foot Yurts, and Groovy Yurts have responded positively to Yurtopia because a yurt t-shirt sale may eventually lead to an actual yurt sale. Even if you don't live in a yurt or plan to buy one soon, but you love the outdoors and simple living, be sure to check out Yurtopia's yurt-inspired merchandise.
Anna adds new designs daily and will soon be expanding her merchandise to a broader market. She says, "I will eventually include a line of off-grid, natural living, and geodome related items as well. I also offer custom designs if you would like your company name or website URL incorporated into the artwork!"
And you never know, you may find yourself wanting to escape city life one day to live in your own yurt. As one of Anna's Yurtopia shirts says, "It's not just for hippies anymore."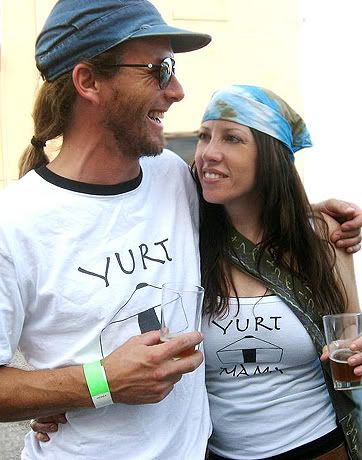 Anna pictured in her "Yurt Mama" tank top with boyfriend
and folk/country music artist, Jim Keaveny
* * *
For more information about Yurtopia merchandise, contact Yurtopia Founder: Anna Oakley at mercurygraphicspromo@gmail.com.
For press release information, contact Alexandra Landeros at (512) 517-0394 or catahoulapress@gmail.com.
Yurtopia Merchandise Distribution: www.theyurtopia.com