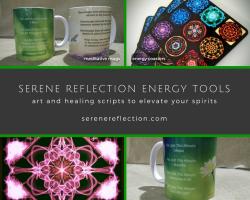 Art and healing scripts to uplift your spirits.

Many of us would like to incorporate a healing or spiritual practice into our daily routine, but often struggle with implementation. On offer here are beautiful, simple products infused with healing intentions that can assist in bringing mindfulness and calm to your day.

These energizing words and images make for meaningful, useful and unique gifts for yourself, your family and friends. If you are a healer or therapist, you may like to gift/recommend some of these to your clients. The wide range of items here ensures that anyone invested in their personal healing and growth is likely to find something that suits their particular liking and requirement.

The Meditative Mugs transform an existing habit of a tea/coffee break into a rejuvenating pause. Powerful, centering scripts (drawing on decades of my personal experience in spiritual and healing processes) are presented with aesthetic, soothing backgrounds. Read each statement, take a deep breath and release... and feel the difference for yourself.

Digital paintings channeling energies relevant to a particular subject - such as each of the 7 Chakras, Yin Energies, 5 Basic Elements etc... are depicted on framed tiles, keepsake boxes, wooden coasters, charms, earrings, bracelets, cufflinks, rings and more. In this way, these beautiful objects serve as regular reminders to coax our own inner healing processes.

To view the entire range of products available for each design, please use the menu on the left, or click on an image below. If you would like to have one of these paintings customized to some other object of your choice, please contact me through my website.

For detailed information, blog posts, free audio and book downloads on subjects of spirituality, meditation and healing, please visit www.serenereflection.com
Meditative MugsTransform your rushed tea/coffee breaks into a rejuvenating pause:
Powerful healing scripts on your everyday coffee mug for ritual use.

Yin(Feminine) Energies

This digital painting was channeled during a powerful lunar eclipse. It is particularly relevant to our current times and to the restoration of balance between male and female energies, within us, as

Heart Chakra Inspired MandalaThe Heart Chakra energies are related to
giving and receiving love, compassion,connection, protection, harmony, EMF field generation, Blood pressure and thymus function regulation.