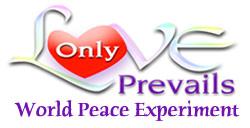 Welcome to the Only Love Prevails World Peace Experiment Online Store!
The Only Love Prevails World Peace Experiment was started in 1996 by Carol Hansen Grey and Victor Grey of Open Heart Press. They believe that a "critical mass" shift in consciousness is what is needed to help achieve a sustainable, harmonious, peaceful world. Believing that we are all one mind, they propose that if enough people (critical mass) could shift their own personal perception—change their minds—about the existence of evil, then the whole planet could shift into a perception of love. The experiment is similar to that described as the "hundreth monkey" effect.
They also believe that world peace begins with each individual achieving a state of peace within themselves. One of the steps to achieving this is to become aware of the "negative" influences in our lives and choosing consciously to eliminate or shift those influences. The "experiment" involves 80,000 people being willing to stand in non-judgment and say the words, ONLY LOVE PREVAILS each time they personally perceive a negative event. For more detailed information about the World Peace Experiment and/or to sign up to participate, please visit the website at: http://onlyloveprevails.org
The products offered in this online store feature the Only Love Prevails logo designed by Carol Hansen Grey. By wearing this logo on t-shirts or displaying it on your favorite coffee mug or water bottle, you can let the world know that YOU stand for peace and have committed to being one of the 80,000 people needed to shift the consciousness of the world. NOTE: Fifty percent of all profits from the sales of the Only Love Prevails products will be donated to organizations that promote world peace.
We hope you will join us in co-creating a harmonious world of peace where...
Only Love Prevails.