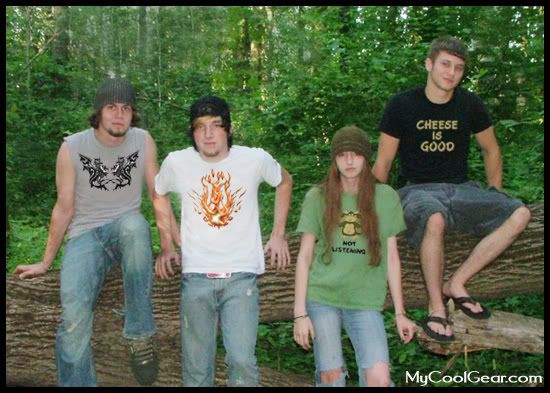 Welcome to My Cool Gear.
Your Source for Humorous, Sports Themed, Gamer, Children, Attitude, Family, Holiday and COMPLETELY WEIRD
T-Shirts and Sweatshirts, Hoodies, Hats, Coasters, Mugs, Mousepads, Buttons, Magnets, Totes, Pillows, Boxers, Aprons, Journals, & More.... Even Dogwear!!



Be Sure to Check Sidebar for Current Coupon Codes.




See something you like, but, want it personalized?

Send an email to CustomerService@MyCoolGear.com.

PLEASE NOTE: Everything You See On This Site Is Completely Original
& Can Not Be Found Anywhere Else !!

New designs are added frequently!!

************************

Gifts for Mom

Great Mother's Day Gifts for Mom to Show Her Your Appreciation.

One of the Family

Mom, Dad, Grandma, Grandpa, Nanny, Nana, Papa, Brother, Sister.

Don't forget Grandma on Mother's Day :)

Children

Cute, Delightful & Realistic

Clothing for Your Little Ones.

The Girl Zone

A section with designs for girls that are young or "young at heart".

"It's All About ME"

Let everyone know right up front where they stand by sporting one of these expressive designs.

Attitude

Have an attitude? This section will help you express it.

Truck Drivers

This section is devoted to all of the drivers out there & their spouses at home waiting for them.

Sports

Karate, Soccer, Bowling, Golf, Baseball, Volleyball, Hockey, Skateboarding, Swimming, Gymnastics & More on the Way !!

Guitar Players

This section features Guitar Player, "String Junkie", Rock Guitarist, Guitar Player on Break and other cool designs.

Crazy 'Bout Cheese

Many Cheese Designs......

It's All About Cheese, Cheese is Good, Will Work for Cheese, Crazy 'Bout Cheese, Cheesy, Cheese Me, Cheese Hound.

Slang

Keeping up with the latest slang?

"Old School", "SNAP" and "Hollaback" so far........More to come.

Who Are You ?

Are you: Easily Amused?

High Maintenance? Snuggly? Stressed Out? Phobic? A Team Player? Grumpy? Emotional?

These & other characteristics are what you will find in this section.

"Patriotic"

Show Your Support for America with One of These Patriotic Items.

Parody

Not Quite The Originals.

CUTE

Just Ducky, Snuggle Bunny, Be Hoppy, Little Stinker and More.

Custom Designs

This section features samples of some of our customer requested designs.

"Angel"

Express your "Angelic Qualities" with these uniquely designed items.

My Cool Gear

Get your "My Cool Gear Gator" Apparel Here.

Four different styles to choose from.

Anti - Valentines

No luck with Cupid lately? Express yourself with our Burning Heart, Flaming Heart, Burned Before or Rusted Heart Designs.

Other Cool Sites

Just can't seem to find what you are looking for here at My Cool Gear? Check out this section for some other great T-Shirt sites.