The Masonic Shop > Printed Masonic Stuff > Elegant Framed Masonic/OES Art Prints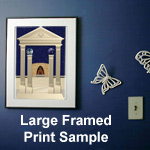 Fine Masonic wall art already framed. Just open it up and hang it up. Dress up that wall and give any room that Masonic look. A most unusual gift for the Mason that has everything.
Of course, it's not possible to show detail on a computer monitor even when you enlarge these pics. Simply too big. So, we have taken some samples of sections of our prints and you can see some more
detail here
.
---