The Masonic Shop > Masonic Bumper Stickers and More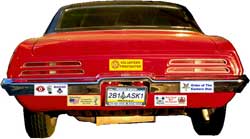 All Vinyl Masonic Sticks for the Bump!
(or anywhere else, for that matter) Proudly let everyone know who you are!!!
(TIP)
Don't want to stick it to your car?
Stick em to a magnetic vent cover and trim it. Then you can even move it from car to car. And remember, all our stickers can be selected with a clear background if you wish. So if you don't like the plain white, simply choose clear!
Stuck on other stickers? Check out our "
cut-ups
" section. Teeny stickers for teeny places!
Note: All stickers also come on 10 and 50 packs. If you need volume amounts, just ask!
---