The Masonic Shop > Tile Coasters & Plaques

Liven up any room or party with our fun, hip, Masonic tile coasters, measuring 4.25" x 4.25" and 1/6-inch thick. Images are applied with a polyester resin that accepts dye as part of the coating. Four felt pads protect your furniture from scratches. Dishwasher safe. Not for use with abrasive cups and mugs. (Tip: Our tile keepsake boxes will store four of the tile coasters. Perfect for that special gift)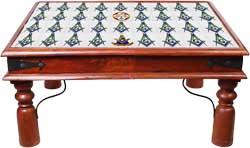 They also make a great accent tile if you're re-tiling that wall. Just peel off the felt pads and you have a great wall or counter top tile!
And if you are REEEEALLY handy, a tiled coffee table top is magnificent! Especially for the Lodge. Or tile the top of the podium! I'm sure you can think up many other uses as well. (wink, wink)
Not to mention they make up a really cool eye-catching conversation starting paper weight!
---