The Masonic Shop > Newest Additions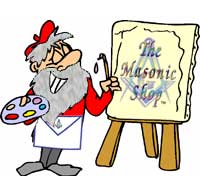 Welcome to our unveiling!
(Looking for the main Masonic Shop page?
Click here
!)
Here you will find some (but not all!) new designs. We'll put them here until they are moved to their new home. (They may already appear on some products in their respective categories)
Note:
That's new
Graphic Designs!
Older designs placed on a different product just go where they belong. If you are only looking here for new products, you may be missing a lot!
And don't forget, if you want to see these (or our older) designs on another product... NO PROBLEM! Just contact us at
The Masonic Shop
. Eventually we'll add our designs to all of them but that may take years!
If you saw something here a day or so ago and it's gone that means it was put where it belongs. Mugs went to mugs, shirts to shirts, gorillas to pet... wait. We don't have any gorillas. If you saw one here, let us know. We'll really have to consider refusing any of your future orders for our beer steins.
Oh yeah! To enlarge any item in our shop for a better view, simply click on it. Then click on it again to get a better view of the design.
---