The Masonic Shop > Custom Area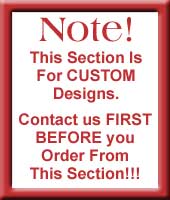 And what can we do for you?
Here you will find samples that folks requested. Can you order them? Sure, but I don't know why you would want something with someone elses name on it. If you want one of our designs customized just for you or your Lodge, simply see how to contact us directly at The Masonic Shops
Special Order Contact Page
. (Better yet, become an affiliate and let us give you your own section! There is
NO extra charge
for this service. All you have to do is ask.)
There you can tell us exactly what you want, we'll make it for you and place it here where you can see it and order it... or not. It's up to you. Doesn't matter what you want it on. Mug, shirt, undies or whatever. If we have it, it can be customized. Just let us know what you need. (
Note:
Proper names are hidden unless you request that they are to be shown. This is just a small sampling of what we have already done for others)
See a T-shirt you like but would rather a larger (or smaller) picture on it? Need a picture on the back? Don't want a picture on the back? No problem. Just tell us what you want. Put your mug on our mug or just your name or Lodge. Or put your mug, your name and your Lodge on something. We're easy and there is NO extra charge for this service! (oops. I think I already said that) It's like, free man!
But remember, in this special section. tell us what you want BEFORE YOU ORDER! or you will get exactly what you see. See our HOW TO ORDER CUSTOM Pages.
Note: Proper names are NOT shown to the general public unless you request it. We have TONS of personalized products that you don't see we keep in hidden areas just for the person who orders it. Also, remember
ANYTHING ON OUR SITE CAN BE CUSTOMIZED. Not just what you see here.
But you have to ask first
before
you order it. We'll make it and put it here for you.
---