The Masonic Shop > Order Of The Eastern Star Gifts and Clothing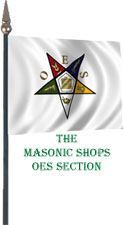 Welcome to the Order of the Eastern Star store at The Masonic Shop!
Items for OES
A.K.A. OES Stuff!
(For OES Holiday items, see our
Holiday section
)
(For OES Buttons & Magnets, see our
Fund Raising
Section)
(For OES Fire, Police and Medical Services, see our
OES FD, PD, EMS
Section)
And for even more OES products, check out our main shop!
themasonicshop.com
And for combination OES/Masonic items check out our
S&C OES section
---