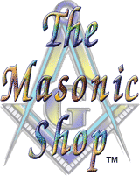 Welcome to our main shop! What you see here are unique Custom Masonic gifts you won't find anywhere else. How do we know? We don't buy them, we make them! Unique designs by and for Masons, printed on top quality products for Masons, Shriners and OES Members
(Over 24,000 so far and counting)
. We have an assortment of Non-Masonic items as well. New items are added regularly (almost every day) so don't be a stranger!
At The Masonic Shop,
We also do custom work
, so contact us directly for your custom designs for yourself or your fund raising campaigns. Need your name or Lodge on it? That's always
free!
Just head here to our
CONTACT US FORM
. We'd be glad to hear from you. And don't forget to sign up for our newsletter while you're there. Need Masonic jewelry? Watches? Rings? Hard goods?
Looking for sales? Check out our main page. You'll find them there. www.themasonicshop.com
---
Think it's Too late for that special gift? Not if you are Creative!!! You can even have it just minutes before you need it. Here's How!!

Regional Masonic Items

Regional Masonic Items. Your state, your country or your area. Are you here? Check it out!

Shriners Stuff

For the Shriners among us, the Shriners wives and the Daughters of the Nile.

Masonic Outdoors

Things you use outside - Signs, License plate frames, Hats, Masonic Apron/Laptop/Messenger bags, Tote bags, & Barbeque Aprons.

The Masonic Card Shop

Greetings The Masonic Way. Masonic, OES & Shriners Greeting Cards, Note Cards & Postcards

Newest Additions

New creations never seen before. Updated just about every day. Check back often!

Custom Area

Customize it! Requests we get. (and you can request them too!)

Masonic Ceramic Beer Steins

The Ultimate Masonic Gift! Unique Ceramic Beer Steins that any Free Mason would be proud to own and display. Regional steins and Shot glasses as well.

Tile Coasters & Plaques

Masonic Tile Coasters & Masonic Wall Plaques. Hang your pride on the wall or place it under your drinks.

Masonic Odds n' Ends

Masonic Wall Clocks, Mousepads, throw pillows, Iphone thingies, Laptop Skins! Dress up the Hall or dress up the house. Just do it!

For Our Ladies

Gifts For Our Masonic Ladies. From buttons to bumper stickers to clothing and more. Make them feel special because... they are!

Masonic Keepsake Boxes

Masonic Tile Keepsake Boxes. What better place for Masons to keep those special Masonic collectibles and keepsakes? Never mis-place them again!

Printed Masonic Stuff

Stuff with Masonic stuff printed on it. Journals, Posters & Fine Masonic Art Prints for your wall.

Masonic Calendars

Masonic Calendars. When the year is over, you can frame the picture!

Masonic Lodge/OES Stores

Masonic Lodges & OES Chapters on line stores. Is your Lodge here? It can be. All you need do is ask.