Welcome!
Life With Shaky is your one-stop shop for all your Parkinson's advocacy apparel and merchandise! So whether you're Shakin' With the Best of 'Em, or Love Someone With Parkinson's, show your Parkie Pride with products by Life With Shaky! .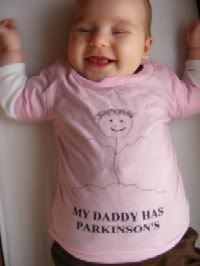 Our daughter Cecilia shows support for her daddy! Buy one of these adorable shirts for your own little bundle of joy!

Note: 100% OF ALL PROCEEDS FROM THE MONTHS OF APRIL AND OCTOBER THRU DECEMBER WILL BE DONATED TO THE AMERICAN PARKINSON DISEASE ASSOCIATION.