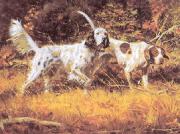 About Us
At IBR Cafepress we offer merchandise, gifts, collectibles and accessories of English Setters, English Pointers, German Shorthair Pointers and other bird dog breeds, on shirts, t-shirts, sweatshirts, coffee cups & mugs, calendars, greeting cards, mousepads, coasters, magnets, license plate frames, bumper stickers, and other gift items, including breathtaking images of hunting dogs and gun dogs out in the field. This site is not only for rescue people, but should make the avid hunter and birddog lover take a second look as well.
Keep in mind that every time you purchase one of our items it helps Illinois Birddog Rescue (we have 501c3 status!) in their efforts to save another dog. Please check out our main rescue website: www.IllinoisBirddogRescue.org
THANKS TO ALL WHO HELP SUPPORT BIRDDOG RESCUE!
Want a product of your own?
If you would like us to create a special product for inclusion on this site, please send a message to
IBR on Cafepress
to make arrangements.
(You will need to provide a good quality digital image, which products you want the image applied to, a name for the image, and short tag line description. The image might be tastefully overprinted with "www.IllinoisBirddogRescue.org".)
ENJOY!

Calendars

Check out our NEW Fundraising Calendars featuring many of our rescued English Pointers, English Setters, Super Mutts and More!

Birddog Yin and Yang

Check out merchandise displaying the "Birddog Yin & Yang" drawing by artist Diane Erwin. What beautiful way to celebrate birddog buddies of the English pointer & setter breeds.

Buttons

Here are some fun buttons for fundraising.

Greeting Cards

Check out our greeting cards for holidays and other occasions, displaying beautiful and/or funny images of dogs and neat captions to carry the message. Wait, there's more! Also view the unpersonaliz

Car Ad Magnets

Help IBR promote our Pointer and Setter adoptions with this fun magnet featuring some of our rescue dogs.

Mein Liebling/German Shorthair Pointer

"Mein Liebling" means My Darling in German. This section is dedicated to a very special little German Shorthair Pointer that was saved in the Spring of 2011.

Inspirational Posters

Dogs can bring so much happiness and joy to our lives. With Illiois Birddog Rescue, we have been blessed with meeting, fostering and adoption out some amazing English Pointers, English Setters and so

Holiday Ornaments

Decorate your home with one of our custom English Setter or Pointer holiday ornaments! Purchase of this item will help save a homeless dog or puppy.

Pilots N Paws

Check out our new IBR Pilots N Paws gifts. Pilots N Paws is a wonderful organization that has helped us save and transport a few Pointers and English Setters.

The Hunting Collection

Great items for the birddog fan, avid hunter and Pointer and Setter Lover, using beautiful images of hunting scenes.

Valentine's Day Gifts!

Grab some cards and mugs---and surprise your friends and family for Valentine's day with some neat presents!!

Pawprints Collection

Show your deep affection for your favorite birddog breed by wearing one of our Pawprints Shirts or purchasing a Pawprints mug or framed Tile as wall art.

Animal Rescuer Collection

Get a T-shirt or mug to show your passion for rescue, with the touching phrase from the "I'm an Animal Rescuer" poem by Annette King-Tucker, who is so gracious to let us use it for our design.

License Plate Frames

Check out our License Plates with slogans that promote birddogs, hunting, rescue, your love of setters,pointers, viszla's...you name it!!!

Mugs

Check out these mugs with loads of birddog images, especially Pointers and English Setters on them, some being captured during their favorite pastime: the bird hunt! Proceeds from the sale benefit Il

MousepadsWe've got Birddog mousepads! The current selection features Pointers, English Setters, Mixed Breeds, Vizslas in cool photos, some captured during their favorite bird hunt.




Boat Mountain Collection

This Section contains items of the Boat Mountain Pointers and Setters that were rescued in early 2006. We are celebrating their rescue and survival and are so proud of the volunteer work that was don

LennyHe's a mix, but not mixed up! Knows exactly what he wants, where he is going...

Misc. Items with Lenny on 'em.




Collections!

A collection of cool products for the birddog fan. Check out collections of Shirts, Mugs, greeting cards, mousepads, coasters, etc. featuring English Setters, Pointers, Vizsla's and more! All procee

Custom Requests

This Section will display Mugs, cards, Shirts etc that people requested specially.