Bunko Prizes and Gifts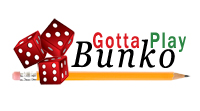 Welcome to my Gotta Play Bunco store. I created these products for visitors to my website, Theme Party Queen, who play this beloved dice game and for others looking for gifts and Bunco prizes. We hope you find what you are looking for among these hand-selected items.
Need more information on how to play Bunco or host a party? Visit our Bunco Theme Party webpage for rules, how to set up your home and find some delicious Bunco food recipes.
Until Next Time,
---