Welcome!
Welcome to my DOUBLEDAWGDAREU store! Thanks for comming, I am selling a number of products with unique graphics on them.Some done by a true artist. Please feel free to browse my store and buy anything you like!
just a big good morning from me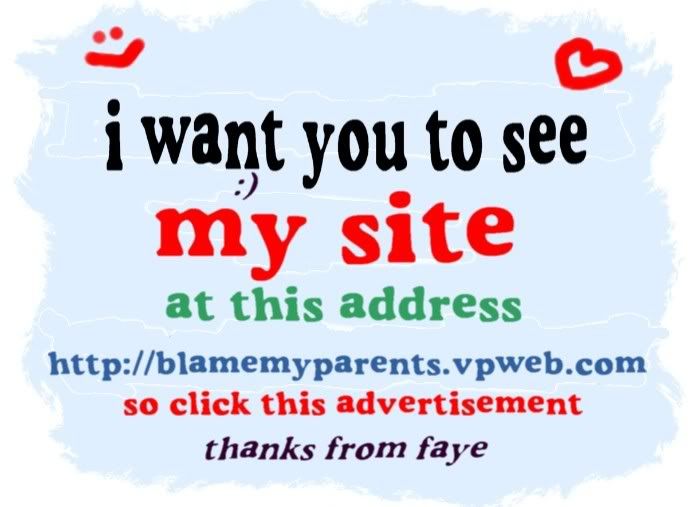 FOR THOSE IN THE DETROIT AREA ...YPSILANTI MICHIGAN THERES THIS REMEMBER THE WATER TOWER IN YPSILANTI MICHIGAN? WELL NOW HERES A GRAPHIC DESIGN JUST FOR ALL YOU EMU STUDENTS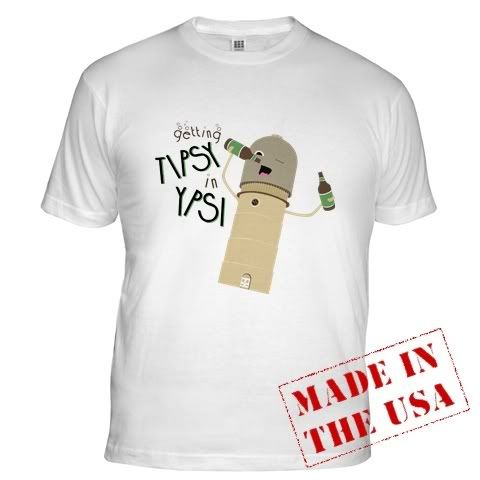 I'm pleased to announce the launch of two new bags – the Beach Tote bag and Gym Bag - These bags are the perfect addition to the shop this Holiday- also we have new shot glasses that i will posting soon. NOTE ... when you get the time go visit this site (betarecords.com) great to put songs on here http://www.betarecords.com/sheryl.clapton ==
if you need to contact me ..email me at snoopdawg4u2@aol.com

< i support the fight on cancer> feb 27,2008 i donated a short sleeve shirt with the words "support the fight on cancer - i did" to see a better view of this shirt look below....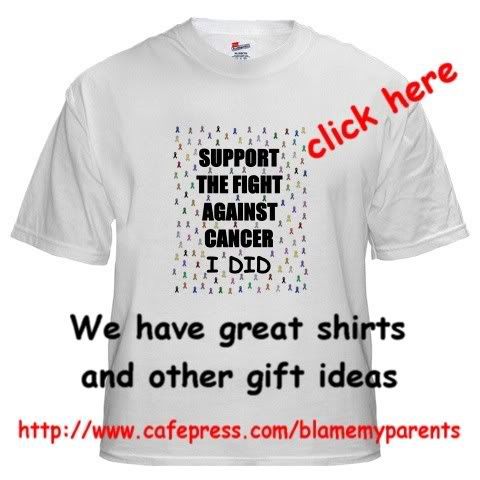 DOGGY STEPS ARE A GREAT GIFT FOR ANY DOG :) OR DOG OWNER
==
== click on this picture OF ME to see my main shop --> >
== click dog

sad dog looka cute sad dog look for cards,magnets,stickers,t-shirts ,baby carters and more
this is a lab and pyenees mix
would make a wonderful holiday gift or get well card

my kid is inside the tee-shirt

current events of alot of hot air.... someone wanting attention for a flying baLloon claiming a boy is inside --this time they were last seen in this baLloon and was flying while inside -- GET THIS O

Don't feel like tweet'nhumorous and cute look for twitter or non twitters
perfect to give as a gift to your co workers,boss,friends or family

super cute!
show it off to all your twitter buds


God is my one true vinesuper great to give to ones that beleive in God. PERFECT for church gifts.
GREAT LOOK ON CARDS,PILLOWS,CLOCKS,MAGNETS,BUMPER STICKERS AND MORE
BE PROUD TO DISPLAY THIS MESSAGE!

leafy green vinegreat look,
perfect for mothers day or anyone that loves plants... nice green leafy vine

follow me on twitter itemsgreat items that say
follow me on twitter
....
this is new so be patient please
MY TWITTER ADDRESS
https://twitter.com/sunnyfaye

DOUBLE DOG DARE YOU (TWIN BOSTONS)DID U EVER JUST WANT TO SAY
I DOUBLE DOG DARE YOU? TO ANYONE
NOW YOU CAN
GREAT LOOKING ARTWORK OF THIS BOSTON TERRIER CARTOON LOOK
DONE BY A TRUE ARTIST
LOOKS GREAT ON CARDS

RELENTLESS GREAT LOOK ON T-SHIRTS
PERFECT TO WEAR TO THE WEIGHT ROOM,
SUPER TO WORK OUT IN
.......
showing or promising no abatement of severity, intensity, strength, or pace : unrelenting - relentless pr

pug with words (phone home) HUMOROUSWAY TO FUNNY
GREAT LOOK -SEND TO ONES IN THE MILITARY....
DONE BY A TRUE ARTIST
I WILL BE PUTTING THIS ON MORE ITEMS
EMAIL ME FOR MORE INFO AT
SNOOPDAWG4U2@AOL.COM
GRAPHIC DONE BY ASHLEY

DOUBLE DAWG DARE U GIFTS"CLICK HERE" TO FIND
DOUBLE DAWG DARE YOU GIFTS AND TEES
perfect for them dawg dare u occasions
unique and humorous
great on doggy t-shirts,toddler and baby items and more


HAPPY BIRTHDAY ICE CREAM LOOKPERFECT LOOK ON BIRTHDAY CARDS,BIRTHDAY INVITATIONS,SUMMER POSTCARDS,STICKERS,MUGS,CLOCKS AND OTHER BIRTHDAY DECORATIONS
GREAT FOR BIRTHDAY GIFTS ALSO-
SAY IT WITH ICECREAM

ypsi is for lovers (ypsilantie)michigangreat look
we will have more items then what is listed
give me a day or so
this is new
great for valentines day
and eastern michigan university college students

I AGREE WITH JOE "The Plumber"the average man JOE "the Plumber" talks about high taxes to president bush .....
DO YOU AGREE WITH JOE THE PLUMBER?

many of you have heard that Joe "the Plumber" Wurzelbacher is leaving for Isra

HUG A PUGA GREAT LOOK FOR PUG DOG LOVERS
JUST IN TIME FOR VALENTINES DAY
SUPER CUTE ON MUGS,T-SHIRTS,TANK TOPS,MAGNETS,BUTTONS ,TOTE BAGS,GREETING CARDS AND MORE


I LOVE ARTA PAINT LOOK DESIGN WITH WORDS OF
"I LOVE ART"
PERFECT TO GIVE TO ART TEACHERS OR ANYONE THAT LOVES ART
BUY I LOVE ART MAGNETS TO DECORATE YOUR FRIDGE TO DISPLAY YOUR OR YOUR CHILDS ARTWORK


pilates bodyjust in time for xmas
a pilates body image
great on t-shirts,mugs,pillows and more
buy one of these for someone special on your xmas list
great for a pilates teacher

VAMPIRES LOVE FOREVERgreat item to wear to the movie twilight .....
perfect for vampires
please give me time to upload more items to this site
.......thank you

Obama + change=HOPEsupport Barack Obama
great on buttons,mugs,stickers,and t-shirts
show you are ready for the change!

MY MOM VOTED FOR BARACK OBAMA WHAT A GREAT WAY TO SUPPORT BARACK OBAMA
PERFECT ON MUGS,T-SHIRTS,TODDLER SHIRTS,BABY CARTERS, BIBS,STICKERS,MAGNETS,BUTTONS AND OTHER UNIQUE GIFTS.....


love and peacegreat look
fun look
perfect gift for anyone
the gift of love and peace

HAPPY THANKSGIVINGgreat look on stickers,mugs,magnets,buttons and more
perfect for thanksgiving decorations

we all need our napsgreat look on magnets,mugs,stickers,shirts and more
perfect to give as a unique gift


HATS FOR YOUGREAT UNIQUE LOOK
PERFECT STREET WARE
FUN HATS FOR YOU,YOUR BEST FRIEND,YOUR GRANDMA OR YOUR PARENTS
PLEASE STOP AND VIEW THESE DIFFERENT HATS
THERE GREAT FOR EVERYDAY USE OR THE HOLIDAYS

MY FIRST HALLOWEENBE SURE TO CHECK OUT THE HALLOWEEN CARDS IN THIS SECTION........
GREAT WAY TO SHOW GRANDMA AND GRANDPA OR FRIEND WHAT BABY OR CHILD LOOKED LIKE ON HALLOWEEN ....(HAS A PHOTO INSERT SECTION)


MERRY CHRISTMAS KITTYWHAT A PERFECT CAT FOR CHRISTMAS-
GREAT FOR ALL AGES-
FUN FOR PARTIES AND XMAS CARDS-
GIVE TO ALL YOUR CAT LOVERS

NAUGHTY BUT NICENAUGHTY BUT NICE
LOOKS GREAT ON BUTTONS,STICKERS,THONGS,BOXER SHORTS ,TOTE BAGS, CLOCKS AND MUCH MORE
FUN ON XMAS CARDS AND BIRTHDAY CARDS ALSO.

FOR THE MONKEY LOVERS WITH A MONKEY BUSINESS AT

I HATE MONDAYSif you or your friends hate mondays but love pugs this is the shop for you
click on pug picture to view this.

pink heartgreat look for valentines day or a special occasion
perfect for postcards,birthday cards,or valentines day cards
great look


DADDY'S LITTLE GIRL ITEMSDID YOU JUST HAVE A LITTLE GIRL?
OR MAYBE YOUR BEST FRIEND HAD A LITTLE GIRL?
IF SO THIS IS A UNIQUE GIFT TO GIVE THEM
CHECK THIS OUT BY CLICKING HERE

I'M SINGLE TONIGHTGREAT GIFT FOR ONES THAT WANT TO BE SINGLE FOR AT LEAST THAT NIGHT :)
PERFECT FOR MARRIED ONES WHEN IN A FIGHT

LET YOUR SOUL SHINELET YOUR SOUL SHINE IS A GREAT ITEM TO WEAR ON A TSHIRT,TANK TOP,HOODIE OR OTHER.....
ALSO FUN ON STICKERS,MAGNETS,CARDS AND CHURCH GIFTS
EVERYONE SHOULD "LET THERE SOUL SHINE" ITS BETTER THEN THE

GARAGE SALEGREAT ITEMS HERE TO DISPLAY A YARD/GARAGE SALE
CAN USE EVERY YEAR ....OR SHARE IT WITH A FRIEND
A PERFECT ITEM TO BUY

LOVE MY CHIHUAHUA

LOVE MY CHIHUAHUA ITEMS ARE PERFECT FOR CHIHUAHUA LOVERS.....GREAT ON MUGS,POSTCARDS,BIRTHDAY CARDS,T-SHIRTS,GULF SHIRTS,BABY CARTERS AND MORE

COLUMBINE FLOWERGREAT GIFTS FOR MOM,GRANDMA OR A BEST FRIEND........PERFECT FOR ONES THAT LOVE FLOWERS OR HANG OUT IN THE GARDEN--
THIS IS THE STATE FLOWER OF COLORADO
GREAT LOOK ON CARDS,POSTCARDS,MUGS,T SHI

LIFE OF DA PARTYLIFE OF DA PARTY IS GREAT TO WEAR TO ANY BIRTHDAY PARTY OR OTHER HOLIDAY PARTY .....
GREAT ON A DOGS T SHIRT ,BUTTONS ,STICKERS AND MAGNETS

KISS ME

KISS ME ITEMS ARE PERFECT ON MUGS,TANK TOPS,BABY CARTERS,BIRTHDAY CARDS,POSTCARDS,STICKERS,MAGNETS,BUTTONS,AND OTHER FUN AND UNIQUE GIFTS

WRITE ME

WRITE ME ITEMS ARE GREAT FOR TEEN GIFTS OR UNIQUE GIFTS TO GIVE TO SOILDERS WHILE OVERSEAS.......OR TO YOUR FRIENDS ,FAMILY AND LOVED ONES

bunny daisy summerbunny spring look
great on baby carters and stickers and other gifts
great for bunny rabbit lovers

HAPPY BIRTHDAYGREAT LOOK ON CARDS,MUGS,CLOCKS,TOTE BAGS AND MORE
UNIQUE AND DIFFERENT -- PERFECT FOR BEAR LOVERS OR HUNTERS

sunflower great look on magnets,tote bags,stickers,clocks and more--
makes unique gifts for any holiday

PURPLE FLOWERSGREAT LOOK FOR YOUR NEW PURPLE ROOM
DECORATIONS ON CUPS,MUGS,STICKERS,MAGNETS,TOTE BAGS AND MORE

I LOVE FUDGEA HEART OF FUDGE TO SHOW OTHERS HOW MUCH YOU LOVE FUDGE.........
PERFECT LOOK ON BUTTONS,MAGNETS,STICKERS,T SHIRTS AND MORE
GREAT UNIFORM TO WEAR TO WORK IN A FUDGE SHOP

I LOVE DEARBORN (MICHIGAN)I LOVE DEARBORN ITEMS ARE MADE FOR ONES THAT LOVE DEARBORN MICHIGAN.....or go to school in dearborn (university of michitan,hernry ford college.--
GREAT FOR DEARBORN POLICE,DEARBORN CITY HALL, OR P

BABY ON BOARDGREAT LOOK FOR DOG T SHIRTS, OR STCKERS,MAGNETS,ANNOUNCEMENT CARDS,POSTCARDS AND OTHER FUN BABY SHOWER DECORATIONS .......
PERFECT ON MATERNITY SHIRTS AND TANK TOPS

GOT COFFEE?GOT COFFEE? ITEMS ARE PERFECT FOR YOUR COFFEE SHOP OR DONUT SHOP......
GREAT LOOK ON STICKERS,MAGNETS,MUGS,T-SHIRTS,TANK TOPS AND MORE
perfect for coffee shop uniforms and or just for fun
start

JUST PILLOWSTHIS SECITION IS FOR SOME UNIQUE PILLOWS
......PLEASE CLICK HERE TO SEE
GREAT ART ON PILLOWS

BOSTON IN BUBBLESGREAT BOSTON TERRIER WITH BUBBLES IN THE BACKGROUND
LOOKS GREAT ON MUGS,CARDS,T SHIRTS,BABY CARTERS AND MORE

sweet heart (heart with design)these items all have the sweet heart look
great for cards,jewerly box,mousepads,baby items,bibs,mugs,stickers,magnets ,valentines day gifts and more

REINDEER DOG

A DOG DRESSED IN A REINDEER SUIT FOR CHRISTMAS.........GREAT LOOK ON CARDS,MUGS,MAGNETS,PILLOWS,STICKERS,CLOCKS,T SHIRTS ,BABY ITEMS AND OTHER UNIQUE GIFTS

I'VE GOT ISSUESTEENS ALWAYS HAVE ISSUES
SOME WORSE THEN OTHERS .....
WE HAVE THIS ON MUGS,T SHIRTS,TODDLER SHIRTS,BUTTONS,STICKERS,MAGNETS, TANK TOPS,CLOCKS AND MUCH MORE

GOT FAITH ?GREAT FOR CHURCH GIFTS, BIBLE STUDY GIFTS,HOLIDAY CARDS, T SHIRTS AND MORE
FUN TO WEAR AT CAMP
GREAT TO WEAR TO A FAITH HILL CONCERT

PANDA BEAR HOLDING DAISY

GREAT LOOK FOR BIRTHDAY CARDS,MUGS,MAGNETS,T SHIRTS,BABY ITEMS,TANK TOPS,JEWERLY BOXES ,MOUSEPADS AND MORE

FAYE HEARTGREAT FOR "FAYE" GIFTS........
MAKES A GREAT VALENTINES GIFT TO A GIRL NAMED FAYE
OR A CUTE BABY CARTER WITH THE NEW BABY GIRL FAYE ON THE FRONT

i love scrapbookingwhat a great look for scrapbookers......
perfect gift to give to a scrapper
this is definitly scrapalicious.......
makes great xmas gifts

LOVE THE SIMPLE THINGSWHAT A PERFECT BIRTHDAY GIFT IDEA
GREAT ON CARDS,SHIRTS,BABY CARTERS,HOODIES,MUGS,MOUSEPADS,ORNAMENTS AND OTHER UNIQUE ITEMS........

PEACE LOVE CURETHIS SECTION IS FOR PINK RIBBON DESIGNS
TO HELP SUPPORT CANCER-

Your purchase today directly supports a great cause, and makes you AND others that purchase one of these items a part of an empow

BRIDE TO BEGREAT LOOK FOR SOMONE JUST GETTING MARRIED.......
SOMEWHAT UNDER CONSTRUCTION .....

BOSTON TERRIER XMAS LOOKA FUN WAY TO CELEBRATE THE XMAS HOLIDAYS
....PERFECT LOOK ON MAGNETS,CARDS,POSTCARDS, CLOCKS, STICKERS,AND OTHER UNIQUE GIFTS

IGUANA'S ROCKGREAT LOOK ON T SHIRTS AND OTHER UNIQUE GIFTS..
PERFECT FOR IGUANA PET HOLDERS

I'M PROBABLY NOT LISTENINGGREAT LOOK FOR YOUR TEEN OR SPOUSE
......PERFECT HOLIDAY OR BIRTHDAY GIFT-
THE BACK SHOWS A CARTOON LOOK WITH WORDS SHOW ME THE MONEY

MAD WIFEUNIQUE GIFTS FOR DIVORCED WIFES--
GREAT GIFT TO GIVE TO HUBBYS WHEN YOUR MAD--
FUN DECORATION FOR THE BATHROOM--
MAKES HUMOROUS BIRTHDAY GIFTS

I REALLY DON'T CARE FACEHUMOROUS ,ORIGINAL AND MAYBE A BIT TRUE
SIMPLE AND TO THE POINT
MAKES GREAT POSTCARDS FOR A BIT OF LAUGH
GREAT FOR TEEN SHIRTS.........BUY FOR XMAS

CUSTOMIZED ANNIVERSARY GIFTSHERE IS A SAMPLE OF WHAT I CAN DO FOR YOUR OWN UNIQUE CUSTOMIZED GIFT
EMAIL ME FOR MORE INFO AT
SUNZUP4U@AOL.COM


LAKE VIEW

great look for father's day cards,mugs,postcards,jewerly boxes ,t shirts,tank tops and more

AQUAPILATES ROCKCUTE LOOK
PERFECT TO WEAR TO YOUR AQUAPILATES CLASS
GREAT FOR AQUAPILATES TEACHERS....
MAKES A UNIQUE GIFT

I LOVE FAYEGREAT TO WEAR AND SHOW FAYE YOU LOVE HER
....... GREAT FOR HUBBYS TO BUY THERE WIFES
PERFECT FOR A SPECIAL FRIEND
GREAT FOR HOLIDAY CARDS


i ruv you

i ruv you items are perfect for weddings,anniversary cards,birthday cards,valentines day gifts or cards t -shirts ,mugs,jewerly boxes,tiles,mouse pads,dog tees and much more

WHATS GREAT ABOUT MICHIGAN?IF YOU THINK MICHIGAN SUCKS THIS IS YOUR SHIRT :)
GREAT GIFT IDEA FOR ANYONE THAT THINKS MICHIGAN IS FALLING APART

heart stuff

great look for cards,mugs,valentines day decorations ,thongs ,boxer shorts and more

PUMPKIN LOOKGREAT PUMPKIN LOOK FOR HALLOWEEN
PERFECT FOR ANY AGE
CUTE ON CARDS,POSTCARDS,T-SHIRTS,BABY CARTERS AND MORE

SLYDERSLYDER ITEMS FOR www.slydersongs.com
ROCK MUSIC SINGER

BOWLING BALL AND PINSGREAT FOR THE BOWLING LEAGUE
SUPER LOOK FOR THE BOWLING TEAM
FUN TO WEAR ON PINS,T-SHIRTS AND OTHER APPERAL

CUTE SOMETIMES COMES IN PAIRSGREAT LOOK FOR TWINS
OR JUST FOR FUN
PERFECT BABY SHOWER GIFT
OR A BIRTHDAY/CHRISTMAS PRESENT......
UNIQUE ,COLORFUL AND FUN
IT WOULD BEE VERY CUTE ON ANYONE

EKAWEEKA ROCKSA GREAT LOOK FOR ALL THE EKAWEEKA LOVERS
PERFECT GIFT FOR TOM :)
GREAT TO GIVE OUT ....UNIQUE

I'M WITH MR RIGHTPERFECT FOR YOUR GIRL OR PARTNER TO WEAR
buy just before the wedding
or give out on valentines day
cool on thongs and boxer shorts

WHAT IS THE CURE?WHAT IS THE CURE? ITEMS ARE GREAT TO SHOW AWARENESS
PERFECT FOR THE MEDIA OR OTHER ADVERTISERS TO GIVE OUT TO SUPPORT THERE OWN COMMUNITY OR ACTIVITY TO HELP THOSE IN NEED.
COULD BE WORN FOR

I LOVE SEWINGA GREAT LOOK FOR PEOPLE THAT LOVE SEWING
A UNIQUE GIFT FOR THE HOLIDAYS OR A BIRTHDAY

I LOVE DONUTSGREAT LOOK ON MAGNETS AND BUTTONS AND OTHER ITEMS FOR COFFEE SHOPS
PERFECT TO GIVE SOMEONE WHO LOVES THERE DONUTS.......CUTE ON MUGS AND POSTCARDS FOR COPS :)

I SELL RASPBERRIESGREAT LOOK FOR RASPBERRY SELLERS
I SELL RASPBERRIES LOOKS GREAT ON STICKERS,MAGNETS,BUTTONS,PLATES,CLOCKS AND MORE
ITS A GREAT WAY TO ADVERTISE YOUR BUSINESS

BE NICE TO ME ,I HAD A HARD DAYYOU CAN ASK FOR OTHERS TO BEE NICE TO YOU BY WEARING THIS BEE SHIRT OR ITEM
or beefore you make any more gift giving ideas consider this beefore you buy........
its a great look
look on both s

I LOVE TATTOOSGREAT TO GIVE TO TATTOO ARTIST
FUN TO GIVE OUT FOR HOLIDAY GIFTS
FUN TO WEAR

I'M NOT LAZY- I JUST DON'T GIVE A DARNGREAT LOOK FOR TODDLER T SHIRTS,GRANDPA,INFANTS,DAD,RETIRED ONES,PREGNANT MOMS,GRANDMA OR YOURSELF :)--
-- SOME ITEMS ON THIS SHOP HAVE A BOSTON TERRIER SLEEPING....WITH WORDS "SWEET DREAMS"

michigan "ruled by dogs"michigan ruled by dog items are humorous
great for a laugh
put on postcards,birthday cards,t shirts, baby carters,dog t shirts and more

ABSTRACT ART (CIRCLES AND STARS)GREAT LOOK
CIRCLES AND STARS
FUN DESIGN ON TOTE BAGS,T SHIRTS,OFFICE SUPPLIES,MUGS,CLOCKS,PILLOWS,BIRTHDAY CARDS,POSTCARDS AND MORE
UNIQUE GIFTS

HAPPY FATHER'S DAYGREAT LOOK FOR FATHERS DAY
GREAT FOR CARDS,MAGNETS,STICKERS AND OTHER FUN GIFTS

LOVE RASPBERRIESA PERFECT LOOK FOR RASPBERRY LOVERS......
LOOK FOR OUR OTHER I LOVE RASPBERRIES DESIGNS.......
CLICK HERE TO SEE RASPBERRIES ON BUTTONS,MAGNETS,MUGS,APRONS,STICKERS AND MUCH MORE

I LOVE MY BOATI LOVE MY BOAT ITEMS ARE PERFECT FOR A BIRTHDAY GIFT OR FATHER'S DAY
THE HEART IS OF A PATCH LOOK DESIGN


I LOVE SLEEPINGGREAT FOR A BABY SHOWER GIFT
GRANDMA ,GRANDPA OR YOURSELF
PERFECT FOR A BEDROOM CLOCK

I FINALLY ARRIVED

I FINALLY ARRIVED AND IM CUTE TOO :) ITEMS ARE PERFECT FOR THE NEW BABY .....

I LOVE THE SUNSHINEI LOVE THE SUNSHINE ON THE FRONT AND A COOL SUN ART LOOK ON THE BACK
A FEW ITEMS HAVE A MONKEYS FACE .....USUALLY THE JOGGING OUTFITS
VERY UNIQUE LOOK

-THE BACK HAS A SUN THAT SAYS
"I GET MY

LET YOUR LIGHT SHINEGREAT LOOK ON CARDS,MUGS,POSTCARDS,STAMPS AND MORE
.....PERFECT CHURCH GIFT FOR A SPECIAL FRIEND

MY TAN IS REALmy tan is from the sun "its the real thing"
great look while on vacation
show others your tan isnt from tanning booths

I LOVE MOMI LOVE MOM GIFTS
LOOKS GREAT ON STAMPS ,MUGS,CARDS,BABY ITEMS,TODDLER T SHIRTS ,MAGNETS FOR BABYS ROOM AND MORE

I LOVE PARISGREAT LOOK IF YOU LOVE PARIS
FUN TO WEAR ON VACATION
THE HEART IS DONE WITH A PATCHY LOOK DESIGN

I'M 2 GOOD 2 BE USEDARE YOU TO GOOD TO BE USED? IF SO
THEN U NEED TO TELL THE WORLD THIS!
GREAT ON BUTTONS,STICKERS,MUGS,CARDS,STAMPS,EVEN DOG T SHIRTS

HAVE A GOOD ONEGREAT LOOK TO WEAR TO WORK
OR EVEN SCHOOL /COLLEGE
......HAVE A GOOD ONE :)

FORTUNATELY BORN IRISHIF YOUR IRISH THEN THIS IS THE ITEM FOR YOU!

FBI-FORTUNATELY BORN IRISH
GREAT GIFTS FOR ST PATRICKS DAY OR ANY DAY OF THE YEAR.......
ON THE BACK A 4 LEAF CLOVER

HAPPY VALENTINES DAYA SWEET LOOK FOR VALENTINES DAY
ESPECIALLY CUTE ON DOG T SHIRTS,BABY CARTERS,BUTTONS,MAGNETS,STICKERS AND MUGS
PERFECT TO GIVE TO YOUR BEST FRIEND , OR MOM.......


LOVELOVE ITEMS ARE PERFECT FOR VALENTINE GIFTS AND CARDS.
ALSO LOOKS WONDERFUL ON BABY ITEMS ,STAMPS,STICKERS,BUTTONS, AND MORE
GREAT FOR TANK TOPS AND THONGS........
MONKEY ON BACK OF MOST ITEMS

ARE WE THERE YETTHIS LOOK IS PERFECT FOR ANYONE AT ANY AGE
.......A BLUE EYED BOSTON TERRIER SITTING IN THE CAR.......WONDERING HOW LONG IT TAKES TO GET THERE......
PERFECT FOR CARDS,MUGS,T-SHIRTS,INFANT AND TODDL

BE MINEBE MINE GIFTS ARE PERFECT FOR THE MILITARY WIFES OR HUBBYS TO SEND TO THERE LOVERS,
ALSO MAKES A GREAT GIFT FOR BOYFRIENDS AND GIRLFRIENDS.
looks super cute on thongs and boxer shorts or baby gift

HOT RAGEOUSLOOK GREAT IN THIS HOT RAGEOUS DESIGN
PERFECT FOR TEENS,BABY ITEMS,TODDLERS, AND EVEN GRANDMA

PERFECT ON MUGS,JOURNALS,THONGS,BOXERSHORTS,BIRTHDAY CARDS,STAMPS ,CLOCKS,STICKERS,MAGNETS,BUTTONS

MY HEART THUMPS FOR YOUGREAT LOOK FOR EASTER OR ANYTIME OF THE YEAR
PERFECT FOR BUNNY RABBIT LOVERS
WE HAVE CARDS,POSTCARDS,MUGS AND MUCH MORE
CLICK HERE TO SEE

BOOKWORM LOVE HEARTS GREAT LOOK FOR A BIRTHDAY GIFT,BEST FRIENDS,
OR ANY GIFT TO SAY I LOVE YOU.......OR HAPPY ANNIVERSARY

MAKE A DIFFERENCEMAKE A DIFFERENCE ITEMS ARE PERFECT TO WEAR NO MATTER WHERE YOUR GOING........
ALSO GREAT FOR CHAIRTY AND NON-PROFIT EVENTS TO RAISE MONEY FOR THE NEEDED......


MONKEY LOVE

THIS MONKEY IS PERFECT ON CARDS,TOTE BAGS,POSTCARDS ,BUTTONS ,STICKERS,STAMPS AND OTHER UNIQUE GIFTS

kiss me YOU MIGHT GET LUCKYSOMETHING DIFF AND UNIQUE FOR ST PATRICKS DAY........IRISH OR NOT.......
PERFECT FOR EVERYONE.......GIVE OUT BUTTONS AT PARTY

I DRINK TO MAKE UGLY WOMEN LOOK GOODI DRINK TO MAKE WOMEN LOOK GOOD .....
PERFECT SHIRT TO WEAR TO BEER PARTIES
OR TO WEAR ON NEW YEARS EVE
.........GREAT GIFT TO GIVE TO MEN FOR SOME HUMOR......

HAPPY MOTHER'S DAYUNIQUE ITEMS FOR DIFF AGES
GREAT TO WEAR ON MOTHER' S DAY OR FOR NEW MOMS TO BE BABY SHOWER GIFTS

OUR FIRST XMAS TOGETHERGREAT LOOK FOR ORNAMENTS,THONGS,BOXER SHORTS,MUGS,TOTE BAGS,CLOCKS,MAGNETS, BABY CARTERS,GREETING CARDS,POSTAGE STAMPS,POSTCARDS,STEINS,JOGGING SUITS AND MUCH MORE.......

some thongs and boxers say

PIMP DOG (BOXER LOOK)

GREAT LOOK FOR STAMPS ,HOODIES,MUGS,TOTE BAGS,BIRTHDAY CARDS, REG GREETING CARDS,TEES,DOG T SHIRTS, BABY CARTERS,THONGS,BOXER SHORTS,CLOCKS,MAGNETS,STICKERS ,TODDLER GIFTS, AND MUCH MORE

I DRINK TO MAKE UGLY MEN LOOK BETTERI DRINK TO MAKE UGLY MEN LOOK BETTER.......
PERFECT TO WEAR ON NEW YEARS AND ANY OTHER PARTY......
GREAT UNIQUE BIRTHDAY GIFTS,XMAS GIFTS,OR COLLEGE GIFTS

ISLAND HEARTGREAT UNIQUE LOOK FOR GREAT GIFTS
.....WEAR ON VACATION
MAKES UNIQUE CARDS AND STAMPS

MWAH (super cute)

Mwah! items are super cute on thongs. tees,doggie t shirts,tote bags, baby shirts,toddler t shirts,mouse pads ,party gifts,unique baby shower gifts,clocks,greeting cards,birthday cards,valentine cards

I LOVE DADDY (YES SIR RE)GREAT LOOK FOR A BABY CARTER, MUG FOR FATHERS DAY, OR OTHER UNIQUE GIFT IDEAS
LOOKS SUPER GREAT ON BUMPER STICKERS AND MAGNETS

i love my LHASA APSOGREAT LOOK WITH A SWEET LHASA APSO INSIDE A HEART
PERFECT FOR MOTHERS DAY OR VALENTINES DAY

I LOVE YOUGIFTS WITH THE WORD.. I LOVE YOU
PERFECT FOR VALENTINES DAY,CHRISTMAS,BIRTHDAY CARDS,CLOCKS,TILES,MOUSEPADS,STICKERS,MAGNETS AND OTHER FUN GIFTS

I CARED FOR SOMEONEGREAT DESIGN
PERFECT TO GIVE TO ONES THAT DONATE MONEY TO ORGANIZATIONS LIKE THE BLUE CROSS, A CANCER SOCIETY OR PURPLE HEART-
CAN BUY IN BULK ,STICKERS,BUTTONS,MAGNETS AND MORE.

LOVE PINKLOVE PINK ITEMS ARE PERFECT TO SHOW EVERYONE YOU LOVE THE COLOR PINK......
A PINK LOOK ON T SHIRTS, STAMPS,MUGS,JOURNALS,CLOCKS,THONGS AND OTHER FUN ITEMS........

NAVY DOGPERFECT LOOK FOR NAVY LOVERS
A SWEET DOG DRESSED IN HIS NAVY OUTFIT
WOULD MAKE A PERFECT GIFT OVERSEAS OR TO GRANDPA--

JUST IN TIME FOR XMAS

BUMPER STICKERSTHIS SECTION IS FOR BUMBPER STICKERS
SERIOUS,HUMOURS,CUTE WHATEVER
CLICK HERE
KEEP IN MIND THIS IS A NEW SECTION...ILL BE ADDING MORE

SWEET BIRTHDAY LOOKA WONDERFUL LOOK FOR BIRTHDAY GIFTS,DECORATIONS OR TEES
PERFECT FOR TOTE BAGS,CLOCKS,BABY T SHRITS,MOUSE PADS,MUGS,THONGS,BOXER SHORTS,TILES,TANK TOPS,JOGGING OUTFITS AND MORE

BIG DADDYGREAT LOOK
FUN AND UNIQUE
PERFECT ON HATS, T SHIRTS, BUTTONS,MAGNETS,MOUSE PADS AND OTHER ITEMS
GREAT XMAS GIFT IDEAS


HATES MONDAYS (COLORFUL LETTERS)HATES MONDAYS DESIGN IS A GREAT LOOK
A VERY COLORFUL WAY TO SAY HOW MUCH YOU HATE MONDAYS......
MAKES A UNIQUE GIFT FOR YOUR KIDS OR FRIENDS
ESPECIALLY CUTE ON A DOGGY T SHIRT

DEVLIN MURPHYDEVLIN MURPHY ITEMS ARE PERFECT TO SHOW YOUR SUPPORT FOR DEVLIN MURPHY....
TO SEE MORE GO TO DEVLINMURPHY.COM


I LOVE TO GAMBLEgreat look when playing games, cards,poker,or just having fun at the casino
perfect to wear on trips to las vegas or other fun gambling sites

great for birthdays,christmas,a best friends gif

SHOW ME THE MONEYGREAT LOOK
"SHOW ME THE MONEY" ITEMS ARE PERFECT TO WEAR TO BINGO, CASINO'S ,CARD GAMES ,RACING EVENTS AND OTHER.......
GREAT FOR BIRTHDAY CARDS, SHOPS ,POSTAGE STAMPS AND OTHER FUN GIFTS



LIKE DATLIKE DAT ITEMS ARE PERFECT AND UNIQUE GIFTS
TAKE A PEEK

LOVE MY CATLOVE MY CAT ITEMS ARE PERFECT FOR BIRTHDAY GIFTS,XMAS GIFTS, OR JUST FUN TO PUT ON STICKERS,MUGS AND JOURNALS
.GREAT FOR CAT LOVERS........
WE ALSO HAVE BABY ITEMS

NAUGHTY AND NICE

THIS SECTION IS PERFECT FOR WEDDING GIFTS, RELATIONSHIP GREETING CARDS, MUGS,THONGS,BOXERSHORTS, TOTE BAGS,STICKERS,BUMBER STICKERS,BUTTONS,MAGNETS AND OTHER PARTY GIFTS

BOXER STYLEA COOL BOXER WITH SHADES AND STYLISH LOOK IS PERFECT ON MUGS,TANK TOPS,BUTTONS,STICKERS,MAGNETS AND MORE
GREAT LOOK ON POSTAGE STAMPS AND CARDS

CUTE SQUIRRELA DRAWING OF A SQUIRREL DONE BY A TRUE ARTIST...
SUPER CUTE LOOK
.....

DA BONES

THIS IS A PHOTO OF DA BONES ON T SHIRTS AND OTHER UNIQUE GIFTS

I WEAR PINK TODAY FOR ALLWEAR PINK TO SHOW YOUR SUPPORT FOR BREAST CANCER RESEARCH.......
GREAT GIFT TO GIVE ANYTIME OF THE YEAR....ALL YEAR ROUND.......
OCTOBER IS CANCER RESEARCH AWARENESS

winter funholiday fun for great cards at christmas......
great on buttons,mugs and other fun gifts

GO FIGURE (ITEMS) SOME HUMEROUSEVER HEAR ANYONE STATE A FACT THEN SAY
"GO FIGURE"
THIS WORLD HAS GOTTON OUT OF HAND.
MAY AS WEAR IT ON A TEE.......OR PUT IT ON A GREETING CARD....
IF YOU CANT WIN EM JOIN EM.....
CLICK TO SEE

BEAUTIFUL FACEthese items have a beautiful face on them
..... great for mugs,tank tops, tiles,mousepads and much more.....

thanks to paula for letting me use her piece of work.....from her own picture....
than

LIFE IS RUFFA SWEET LOOKING SAD DOG EXPRESSION
(neopaltion mastiff)
WITH WORDS "LIFE IS RUFF"
CUTE ON MUGS,CARDS,BIRTHDAY CARDS,HATS,TANK TOPS,BABY GIFTS AND OTHER FUN ITEMS

MY WIFE THINKS IM AN A HOLEMY HUSBAND INSPIRED ME TO MAKE THIS <3
GREAT GIFT FOR HUBBY FOR VALENTINES DAY,CHRISTMAS OR A BIRTHDAY.....
WE HAVE MUGS,STICKERS,MAGNETS,T SHIRTS,CLOCKS AND MUCH MORE

LOVE MY PIT BULLLOVE MY PIT BULL ITEMS ARE PERFECT UNIQUE GIFTS FOR PIT BULL LOVERS
GREAT FOR BABY SHOWER GIFTS ON INFANT AND TODDLER SHIRTS AND BABY CREEPERS.....
SUPER CUTE ON MUGS ,TOTE BAGS,CLOCKS,THONGS,BOXER

SORRY DOESN'T WORK FOR ME ANYMORE"SORRY DOESNT'T WORK FOR ME ANYMORE"

TELL THE WORLD THAT SAYING SORRY DOESN'T WORK FOR YOU ANYMORE-

GREAT FOR TEACHERS TO WEAR TO TELL THERE STUDENTS SORRY DOESN'T WORK--

--GREAT FOR PAREN

HANGING WITH MY TWINTHIS SECTION CONTAINS UNIQUE DESIGNS FOR TWINS TO WEAR
ITS A MUST SEE
.....SUPER CUTE IDEAS FOR GIFTS ALSO

MY DADDY IS PERFECTGREAT ITEM TO WEAR ON FATHER'S DAY OR ANY DAY OF THE YEAR...
WOULD MAKE A GREAT BABY SHOWER GIFT FOR A BABY BOY OR BABY GIRL
ALSO LOOKS GREAT ON MUGS,STICKERS,CLOCKS,GREETING CARDS, POSTAGE CARD

BIKERS ROCKthis section is for biker items......
many selections..... soon
new section ...please be patient :)

FUNNY SAYINGS AND MORETHIS SECTION CONTAINS DIFFERENT SAYINGS ,
SOME HUMOURS OTHER SERIOUS....
GREAT ON PILLOWS ,SHIRTS,STICKERS,MAGNETS ,BUTTONS AND OTHER FUN ITEMS.....INCLUDING BABY ITEMS.

MY FIRST EASTERGREAT GIFTS FOR BABYS OR TODDLERS FIRST EASTER...
GREAT ON EASTER DAY .....OR FOR EASTER GIFTS

THIS SECTION CONTAINS MORE THEN JUST THE MY FIRST EASTER ITEMS...
WE HAVE ITEMS THAT SAY I

DUCKSCUTE DUCK INSIDE AN EASTER EGG
GREAT LOOK FOR EASTER FOR HATS ,T SHIRTS, DOGGY T SHIRTS,BIBS,JEWERLY BOXES,MAGNETS, BUTTONS, STICKERS, AND MORE

I LOVE PILATESI LOVE PILATES ITEMS ARE PERFECT FOR THE GYM, SCHOOL, COLLEGE

GREAT GIFT TO GIVE FRIENDS, PARENTS,AND OR TEACHERS AND OTHERS FOR A SPECIAL UNIQUE GIFTS.

SHOW THE WORLD U DO PILATES AND IT WORKS

BIRTHDAY CARDS AND MOREGREAT ITMES TO BUY FOR THAT SPECIAL BIRTHDAY........
SUPER CUTE CARDS OF ALL DIFF BREEDS AND OTHER SUBJECTS......
EMAIL FOR MORE INFO
SUNZUP4U@AOL.COM


DAMAGED GOODS (HUMORIOUS)VERY HUMORIOUS AND UNIQUE ....
YOU WILL GET ALOT OF LAUGHS OUT 0F THESE ITEMS.....
FUN AND DIFFERENT.....
A MUST SEE .....

SHUT UP AND PET MEYOU HAVE HEARD OF SHUT UP AND KISS ME --
BUT DOGS DONT WANT KISSED THEY WANT PETTED
IF YOUR DAWG OR DOG .....WANTS PETTED 24 HOURS A DAY THIS IS THE SHIRT FOR HIM....
THIS IS OF A BOSTON TERRIER

CANDY NAMEGREAT LOOK FOR SOMEONE NAMED CANDY
GREAT GIFT IDEAS
GREAT ON PILLOWS,MUGS,TANK TOPS ,BABY ITEMS,TILES,HATS,DOGGY T SHIRTS,MAGNETS,STICKERS,BUMPER STICKERS ,PLATES,JORNALS,WOMENS APPAREL ,THONGS AND

LOVE YORKIESYORKSHIRE TERRIERS......ARE IN THIS SEC
MANY DIFF DESIGNS .....WITH YORKIES
....A MUST SEE

ANGELSGREAT TO COME TO SEE DIFF ITMES OF ANGEL OR ANGELS PRODUCTS....
FROM JEWERLY BOXES TO TANK TOPS....
CLICK HERE TO SEE A VARIETY OF DIFF ITEMS.

CAMPING ROCKSGREAT LOOK FOR CAMPERS....
GIRLSCOUTS,BOYSCOUTS, OR YOUR OWN SON OR DAUGHTER.....

PERFECT LOOK TO HAVE FUN THIS SUMMER



DICK CHENEY SHOT THE EASTER BUNNYDICK CHENEY DID IT WITH A GUN......
HE SHOT THE EASTER BUNNY
FOR HUMOR
GREAT FOR THE EASTER HOLIDAYS
GREAT FOR ALL AGES INCLUDING YOUR OWN BABY .....:)

EASTEREASTER GIFTS HERE
(CHOOSE A VARIETY OF DIFFERENT DESIGNS)

GREAT EASTER ITEMS INCLUDING DOGGY T SHIRTS AND BABY ITEMS.....

I LOVE BOXERSTHIS SECTION IS FOR BOXER LOVERS

we have boxers with footballs, boxers under blankets and more
A MUST SEE !!

CLICK HERE TO SEE DIFF DESIGNS

BOSTONS ROCKA SWEET BOSTON LOOK

GREAT FOR BUTTONS,MAGNETS,JOURNALS,TANK TOPS ,BABY BIBS AND CREEPERS,THONGS, BIRTHDAY GREETING CARDS AND MUCH MORE

BAD RAP ( AMERICAN PIT BULLS)THIS SECTION HOLDS PITBULLS
PLEASE CLICK TO VIEW......

.... NOT ALL PIT BULLS ARE BAD
MANY OWNERS TO PIT BULLS ..... SAY THEY ARE SWEET....
IF YOU HAVE A PIT BULL THAT YOU WOULD LIKE ON MY SH

CREATIVE DESIGNSARTISTIC LOOKING MOON AND STARS
IF YOU LIKE ART WORK YOU WILL LOVE THESE DESIGNS....
GREAT GIFT IDEAS

SPRING (FERNS AND SUCH)PLEASE COME HERE FOR SOME NATURE ITEMS
WATER, SUN, LEAVES,FERNS,PLANTS,FLOWERS,AND MUCH MORE....


BOSTON TERRIER PAINTED LOOKBOSTON TERRIER PAINTED IN HER JOGGING SUIT.....
A CASUAL CANINE LOOK

COME HERE TO SEE MANY DIFF DESIGNS OF THIS

COOL BOSTON TERRIER (SUNGLASSES)GREAT ITMES WITH THIS SWEET BOSTON TERRIER...
GLASSES AND HANGING TOUNGE GIVE THIS BOSTON TERRIER THE COOL LOOK

SUPER CUTE ON THE LIGHT PLATE SWITCH COVERS......
SO CUTE EVEN I BOUGHT ME ONE..

LUCKY MONKEYDRAWN BY A TRUE ARTIST--
A CUTE MONKEY..... WITH WORDS "LUCKY MONKEY"

MAKE SURE YOU VIEW LARGER TO SEE THE MOON SHAPED EYES.

PERFECT ITEM TO WEAR ON ST PATRICKS DAY EVEN IF YOUR NOT IRISH.....

MY DADDY IS A MARINESUPER CUTE LOOK

GREAT TO WEAR IN PICTURES

LET BABY SHOW OFF HER DADDY

BE PROUD TO HAVE A DADDY AS A MARINE


I LOVE YOU HEART BOXA COLORFUL HEART THAT SAIDS I LOVE YOU

WE HAVE THIS ON MANY ITEMS INCLUDING MUGS,JOURNALS,TILE BOXES ,TILES THAT IS USED FOR COASTERS,BABY ITEMS,GREETING CARDS, POSTAGE STAMPS,DOGGIE T SHIRTS AND M

0% IRISH (MUST SEED BACK OF ITEMS)YOU DONT HAVE TO BE IRISH TO HAVE FUN
THIS IS PERFECT TO WEAR AT PARTIES
THE ITEMS ARE PERFECT PARTY FAVORS AT ST PATRICK DAY CELEBRATIONS....

MOST OF THE BACK OF ITEMS SAY
"NOT IRISH BUT YOU CA

BROKEN HEART STUFFCLICK HERE
FOR
BROKEN HEART STUFF
WE ALSO HAVE (MY OTHER HALF IS IN IRAQ) ITEMS.

SWEET DREAMSsweet boston terrier
sleeping in her bed
what a cute look on mugs, stickers, tank tops ,baby items, journals, and much more

IM SO LOVABLEPERFECT FOR TANK TOPS, T SHIRTS, BABY BIBS AND CARTERS ,JOURNALS FOR SCHOOL OR WORK
AND MUCH MORE
A MUST SEE

PILLOW TALKPILLOWS OF MANY VARIETIES OF SUBJECTS FROM ANIMALS TO I LOVE BINGO

PEEK AT THESE UNIQUE ITEMS.....
GREAT UNIQUE GIFT ITEMS
CLICK HERE TO SEE

SITTING PRETTY (SHIH TZU) A SHIH TZU WITH STYLE--

A SWEET LOOK ON MUGS,JOURNALS,TANK TOPS,TRACK SUITS ,BABY ITEMS AND MUCH MORE

GREAT GIFT IDEA....FOR ANYONE.

I LOVE BIRDSCLICK HERE TO SEE BIRD/PARROT GIFTS

WE HAVE MAGNETS,HATS,TANK TOPS, T-SHIRTS,BUMPER STICKERS ,BABY ITEMS,TRACK SUITS,JOURNALS AND MUCH MORE

LUCKY MONKEY/LUCKY YOUSTAY LUCKY WITH THIS LUCKY MONKEY

GREAT ART WORK DONE BY A TRUE ARTIST

GREAT LOOK ON BABY ITEMS, BUMPER STICKERS, LISCENSE PLATES,TRACK SUITS AND MORE

ROAD REBELTHE BOSTON BIKER
GREAT LOOK FOR TANK TOPS , TSHIRTS,JOURNALS, BUMPER STICKERS AND MORE...

PERFECT BABY SHOWER GIFT :)

CARTOON DOG (DOUBLEDAWG DARE U LOOK)SWEET CARTOON DOG LOOK

THE LOOK OF I DOUBLE DAWG DARE U

PERFECT FOR BABY ITEMS , TEEN SHIRTS,JOURNALS,MUGS, JOGGING OUTFITS ,FATHER DAY GIFTS,BIRTHDAY GIFTS AND CHRISTMAS GIFTS

I DOUBLE DAW

DOWN WITH LOVE (BULLDOG)HUMOROUS BULL DOG LOOK
SUPER CUTE FOR GRANDPA AND OTHERS TO WEAR

GREAT TO GET OR GIVE ON VALENTINES DAY

CAN ADD ON WORDS IF YOU LIKE

SINGLE...WISH I WAS SINGLE LOL
LOVE SUCKS,OR EVEN ...

I LOVE MY PIT BULLMOST POPULAR ONE THIS YEAR ARE MY PITBULL ITEMS....
BACK OF MOST OF THE ITEMS OF THE (I HEART MY PIT BULL ) HAVE A HUGE BONE ON THE BACK WITH SAYING."I LOVE MY PIT BULL"

CLICK HERE TO SEE

SWEET AS CANDY (BIG RED HEART)PERFECT FOR YOUR TEENS BIRTHDAY GIFT
OR ....A MOTHERS DAY GIFT

EXCELLENT FOR VALENTINES DAY

A MUST SEE........GREETING CARDS ARE SWEET WITH THIS HEART.


LOVE YOU FOREVERGREAT GIFT TO GIVE YOUR LOVER

PERFECT FOR VALENTINES DAY
OR WEDDING GIFTS.

CLICK HERE

BASEBALL ROCKSSUPER CUTE GIFT TO GIVE TO PIT BULL LOVERS WHO ALSO LOVE BASEBALL

GREAT FOR BABY SHOWERS
AND VERY SWEET LOOK ON A DOGGIE T SHIRT

CLICK TO SEE BASEBALL ROCK ITEMS!

THE BACKS HAVE THIS BREED

DADDYS GIRL (SUPER CUTE )THIS SECTION HOLDS LINKS OF DIFFERENT VARIETIES OF DADDYS GIRL

YOUR NEVER TO OLD TO BE DADDYS GIRL

"SOME ART WORK DONE BY A TRUE ARTIST"

HUGS AND KISSES (SHAR PEI)SWEET SHAR PEI
....WITH WORDS "HUGS AND KISSES"

PERFECT FOR VALENTINES DAY OR BIRTHDAYS

GREAT BABY SHOWER GIFTS ALSO

JUST DOG T-SHIRTSTHIS CONTAINS OVER 30 DESIGNS DESIGNS
CLICK ON (DOG PIC) TO VIEW THESE...



JUST BABY CARTERS (OVER 100 DESIGNS)WOW SUPER FOR A BABY SHOWER GIFT
OR MOM TO BE.....OVER 100 UNIQUE DESIGNS!!

ADD THIS TO FAVORITES
WERE ADDING NEW ONES AS THEY COME IN
YOU WILL FIND UNIQUE AND FASHIONABLE BABY ITEMS HERE...


LOVE SUCKSCLICK HERE FOR ANIT-LOVE ITEMS

MAKES A CUTE BABY SHOWER GIFT ALSO :)

HAPPY VALENTINES DAYLICORICE CANDY HEART
WITH WORDS HAPPY VALENTINES DAY

PERFECT FOR STICKERS,MAGNETS, BUTTONS ,MUGS,TANK TOPS, BABY ITEMS AND BABY CARTERS AND TONS MORE

BUY A HEART MUG AND FEEL IT WITH A SHIRT OR

HUG -A-BULLA HUGABLE PIT BULL
HUG-A-BULL IS PERFECT FOR T SHIRTS, MUGS, HATS,JOURNALS,JOGGING OUTFITS, TRACK SUITS, SWEATSHIRTS AND MUCH MORE


BULLDOG FACEWHAT A BEAUTIFUL BULLDOG PICTURE
GREAT ON ANY ITEMS FOR ANY OCCASION

SUPER CUTE ON MUGS AND GREETING CARDS

REALLY CUTE ON BABY ITEMS!


PURRFECT GIFTSGREAT PLACE TO SEE PURRRFECT GIFTS

GREAT GIFTS FOR YOUR DOG OR YOUR BABY OR YOUR BEST FRIEND

CLICK HERE

HAPPY VALENTINES DAYSUPER SWEET LOOK FOR VALENTINES DAY
BUY A MUG AND ADD A GIFT TO IT.....
BE A PERFECT GIFT FOR A PUG LOVER.....

THIS LITTLE PIGGYSUPER GIFTS FOR XMAS AND BIRHDAYS

BUY A MUG AND A MATCHING SHIRT OR OTHER ITEM TO PUT IN THE MUG FOR A SPECIAL GIFT TO A PIG LOVER.

HAPPY BIRTHDAY (HUGE PINK PIG)SUPER GREAT TO GIVE OUT FOR BUTTONS,MAGNETS,POSTCARDS OR BIRTHDAY GREETING CARDS

BUY A PIG ITEM AND STICK IN A PIG MUG... FOR THAT SPECIAL PIG LOVER

SUPER FUN TO WEAR THE PINS AT BIRTHDAY PARTYS

YORKIE TERRIERSA SWEET YORKIE TERRIER
IN HER JOGGING OUTFIT.

....THIS TERRIERS MASTER ALSO SELLS YORKIE CLOTHING ITEMS....(SOME THAT ARE THE SAME ONES YOU SEE ON HER IN PICTURES).

SO YOU COULD BUY A MATCHING

PIGS ARE FOR LOVIN
"PIGS ARE FOR LOVIN NOT THE OVEN"
A MUST SEE!

BUY THIS FOR THE PIGGY LOVER ON YOUR LIST
FOR XMAS ,BIRTHDAY,VALENTINES DAY, WEDDING OR BABY SHOWER

HUGE PAINTED PIGA HUGE PAINTED ARTISTIC PIG
DRAWN BY AN ARITIST.
PLEASE LOOK ON BACK OF THE ITEMS
SOME ITEMS HAVE A HEART THAT SAYS "I LOVE PIGS" ON THE BACK.


QUESTIONS OF ANY KIND
EMAIL ME AT SUNZUP4U

PIGS ARE FOR LOVIN HEARTA SWEET PIGGY INSIDE A BLACK HEART
"PIGS ARE FOR LOVIN"
GIVE A PIG VALENTINES CARD , BIRTHDAY CARD OR A POSTCARD TO A PIG LOVER....
SHOW HOW MUCH YOU LOVE PIGS

THIS LITTLE PIGGY WENT SHOPPINGTHIS IS SUPER CUTE ON BUMPER STICKERS,BIRTHDAY CARDS AND CHRISTMAS CARDS.

WE HAVE MATCHING STAMPS AND STAMP PALS,
DESIGNS FOR YOUR LETTERS AND CARDS).

SHOPPERS IN THE PARKING LOT WILL LAUGH AT

I LOVE MY CATCOLORFUL WAY TO SHOW YOUR LOVE FOR YOUR CAT.
PERFECT XMAS PRESENTS
UNIQUE IS WHAT WE STAND FOR


Summer Camp Necklace Circle Charm


$16.99

Summer Camp Necklace Oval Charm


$16.99

Summer Camp Necklace Heart Charm


$16.99

Summer Camp Necklace Heart Charm


$14.99

Summer Camp Earring Oval Charm


$14.99

Summer Camp Earring Circle Charm


$14.99

Summer Camp Earring Heart Charm


$14.99

Summer Camp Aluminum Photo Keychain


$9.50

Summer Camp Aluminum Oval Keychain


$9.50

Summer Camp Aluminum License Plate


$16.99

Summer Camp Shot Glass


$8.99

Summer Camp Patches


$5.50