DarkRubyMoon > Frequently Asked Questions
Frequently Asked Questions
Q: Why does it cost so much? Why so expensive?
A: DarkRubyMoon Store is not a big department store chain. Items are printed individually upon order, and therefore we don't print thousands of T-shirts or other items that would reduce the cost. The base price of items are set by the printer with a small mark-up over this cost. The mark-up is the only cost we can control. Items are of high quality and very limited production. Although available via the web world-wide, you can be certain that if you purchase an item from the DarkRubyMoon Store, you have a high quality item that only a few similar items have been produced with the design you selected. Because of the limited nature of the items and the high quality, cost are more expensive than you might find at a large retail store. You may find other CafePress shops with lower priced works, but it is unlikely you will find one with the same quality of artwork. You are very unlikely to find many others with a identical item. I also try to keep my prices as low as possible with just enough mark-up to keep my store open. Currently, I do not have a budget to advertise and therefore sales are very slow. As more people purchase items, it may be possible to lower prices further. Be sure to check regularly sale items.
Q: Can I custom order a design?
A: Yes. Check out the Contact the Artist page to read details on how to order a custom image to your specifications. The number of custom images I will create is limited and prices vary based upon complexity of design and copyright requirements. A list of general prices is available in the Contact the Artist section. Please note, you must give plenty of time for custom work to be done. I generally do not do work by set deadlines due to the number of works to be done and the variability of completing works.
Q: Can you handle bulk orders?
A: Yes. Some bulk items appear in the store for large quantity purchases. For Items not listed in the store, Contact the Artist for more information on bulk orders and price discounts. Not all items may be available for purchase as a bulk item.
Q: Are there other places I can order your artwork from besides CafePress?
Yes, there are other places and other items available with artwork done by DarkRubyMoon, but unfortunately I am not permitted to link to them in this website. Join my Twitter Feed to find out more about my artwork and its availability at https://twitter.com/DarkRubyMoon
Q: Can I buy an item with your artwork shown in your gallery but not listed here?
A: Yes! Just about any image shown at my art gallery at http://darkrubymoon.deviantart.com/ can be added to any of my items at request by contacting me by email at darkrubymoonstore@gmail.com . Simply identify the image you would like by its URL or title and what product you wish to see it on. I have a limited space for number of items to display, so the artwork chosen in my store are those pieces that I believe are most likely to sell. Some images however may be too low quality or too small for printing. CafePress also has restrictions as to content, so some items I may not be permitted to sell on items in this store.
Q: Why is an item one price in one section and another price in another section?
A: Whoops! As the artist, sole owner, and sole website developer for this store, sometimes you may find an item marked at one price in one section, and a lower price in another section. If you see this, take advantage of this by purchasing the lower priced version while it last!
Q: Are there other items available with your artwork that are not shown in this store?
A: Yes... but I can't tell you where or what they are here. Unfortunately I am not permitted to provide these links on this website. Join my Twitter Feed to find out more about my artwork and its availability at https://twitter.com/DarkRubyMoon
Q: Why is there items in the By Design section not shown in product sections?
A: The By Design section is always the most current and up-to-date section of my store as it list all the products I have available in my store. Unfortunately, I don't always have time to update the other sections as frequently as I am constantly working on new artwork. Therefore, many items will appear first in the By Design section long before appearing in the individual sections divided by item type.
Q: Can I follow you on Twitter? Facebook? DeviantArt? MySpace? SecondLife?
A: YES!

SecondLife Name: DarkRubyMoon Flux (Note: Am rarely online in SL)
Q: How often do new designs appear?
A: New Designs appear here frequently, and old designs may disappear. Sometimes several new designs can appear within days of one another, and other times it may be months before a new design is posted depending upon my schedule and how often I come up with art appropriate for this store. To find out when new artwork is appearing, be sure to check back regularly and follow me on Twitter at https://twitter.com/DarkRubyMoon.
Q: Can I purchase original artwork from you directly?
A: I will sometimes sell original artwork and custom sketches. Unfortunately I can not advertise their availability here. To find out more, Check out the Contact the Artist page to read details on how to order a custom image to your specifications, or follow me on Twitter at Twitter- https://twitter.com/DarkRubyMoon to find out about special original artwork offerings.
Q: What mediums of art do you do?
Pen and Ink
Computer Graphics
Pencil
Acrylic
Pastels
Oil Paints
Watercolor
Charcoal
marker
And more!
Q: How can I link to your store from my website, blog, or social network?
A: I would love for you to link to my store!
LINK TO DARKRUBYMOON!
Link to the DarkRubyMoon Store in your website or blog! Help keep my store open by encouraging others to visit my website. Linking to my store is simple. Select the type of link you would like to post below and copy it into your blog or website. Simply click the Highlight All button to highlight the script, and copy (type Control-c or Apple-c) the script into your website or blog.
Short Text Link 1
Short Text Link 2
Small Image Link
Small Image Link 2
Small Image Link 3
Small Image Link 4
Medium Image Link 1
Medium Image Link 2
Medium Image Link 3
Medium Image Link 4
Large Text Link
Small Image

Small Image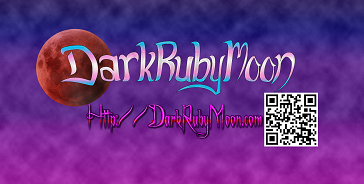 Small Image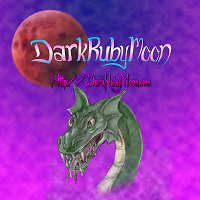 Q: Can you link to my store in your links section?
A: CafePress limits what links I may offer in my store. I would be happy to offer a link to your store if...
You link to my store
You offer a positive website for a good legitimate social cause
Your link is to a store that does not offer products similar to CafePress
Your link is to a CafePress store that offers items not similar to my own.
To get your url link listed, Contact the Artist with a link, description of the link you want posted. Not all links will be posted.
Q: I have a great idea for a new image for your store, but I don't want to buy anything. Will you draw or paint this for me?
A: As an artist, I am always looking for great new ideas. If you have a good idea for a new work of art, please feel free to Contact the Artist. In the subject of your email, please send as DarkRubyMoon Image Idea so I don't confuse your email with a request for a custom order. Please keep in mind that I will retain the full rights to any royalties or earnings as well as copyrights to any images produced from any idea offered to me. If I like your idea and choose to do a drawing, painting, or computer graphic image based upon your idea, I will send you a low-resolution copy of the image and post the image in the sale section at a reduced price for a period of time if it is suitable for sale in my store.
Q: Do you do Adult oriented, or fetish artwork?
A: Yes. DarkRubyMoon store has a separate section for adult oriented artwork. Unfortunately, there are some rather strict rules and regulations as to what sort of adult oriented images I may offer for sale here. For CafePress items, any images depicting graphical sexual content is strictly prohibited. For custom art request, my only rules with regards to adult oriented art are that it must not be Obscene by local community standards, and that I will not produce any artwork depicting anyone under the age of 18. This is due to current state and federal laws.