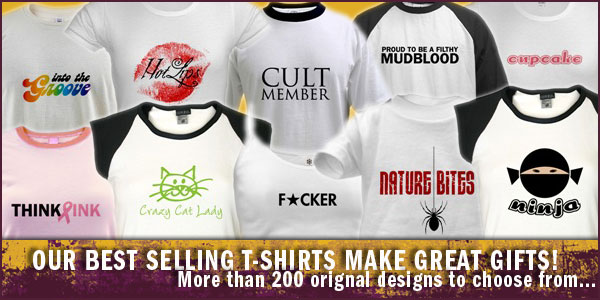 Beer Store

It's all about the beer!! Cool vintage/washed/worn designs all about that wonderful frothy brew BEER!

Nature Bites

Nature Bites! Or at least a lot of nature's creepy crawly bugs do! So whether you are going camping, hiking, or just out your front door let people know that "Nature Bites". [ant, spider, scorpion, an

Big Fuzzy Cat Stuff!

There is nothing like a big, fuzzy, cuddley cat and these designs celebrate all things cat! Come in and get some of our cute kitty and ragamufffin designs! Baby, mugs, bumper stickers, totes and ts!

Animal Innuendo

Adult humor at its best! Simple, clean designs that will make people take a double take! All available in white on black, black on white and white worn/distressed on black!

All about "The Girls"

"The Girls" take center stage on these fun, adult humor (but not crude) shirts. 8 designs including a breast cancer survivor design

Vintage Wear - adult humor

Retro/vintage t-shirt designs for men and women...9 designs some available in both distressed and undistressed versions.

HolidayWear

Unique t-shirts and sweatshirts to get you in the holiday mood!

Geek Extraordinaire

Retro styled for your pleasure this first in a new line of "extraordinaire" shirts will please the geek in you!

The Ninja Store

So you're a stealthy, sneaky, black clad figure - ready to jump out and kick some butt? On your off days try these shirts as a change from your normal Ninja wear! SOME DESIGNS ON BLACK Ts!

Smoochies4U

Smoochies4U is a fun product line for everyone! These are fun and funky and will make you the envy of your friends! Sayings with attitude, bright red smoochie lips what more could you want! Say it you

Big & Dumb - guy designsStep right up guys I got a shirt that says it all...let the ladies know you are the "perfect" man big and dumb!!
5 Designs

Micromanagement Designs

Do you oversee everything?? Can't let anyone do their job without butting in? Can't even let your friends plan a a night out to the movies without them wanting to strangle you?

M-Inspired

Cool shirts and other stuff inspired by the Queen of Pop... its all about music, religon and attitude...NOW SOME DESIGNS ON BLACK T-SHIRTS!!

HP Inspired

Cool unofficial, HP fan inspired t-shirts for you to sport around the castle campus! Witch, Wizard or troll - you might find a magical shirt perfect for you. They are Potterific!

Black Ts

All our black t-shirt designs in 1 place!!! MORE COMING SOON KEEP CHECKING BACK!!

Cook wear

These aprons will make cooking more fun!

Retro Pattern Collection 1

COOL RETRO! Stationery (Stamps, invites, postcards and more), Home Furnishings (Clocks, Pillows, Tiles and more) all in 12 color combinations.

Florida Hurricane Season

Live in Florida? Survive a hurricane? Don't like hurricanes? well check out theses bright crisp fun shirts and bumper stickers!

Dick Cheney Shoots Lawyer!

It's all about Dick Cheney's hunting accident - 8 humorous designs in all available in vintage distressed or regular!

Abstractions - Collection 1

Abstractions is a collection of jewel colored abstract photographs. Posters, framed prints and other gifts are available, and coming soon a Hi-Res Stock CD will also be available.

Cubisim - digital art

Cubisim is a digitally altered photograph available in a variety of posters, framed print, postcard, notecards and more.

The Atlantic City Collection

Sepia toned and antiqued photographs of the Altlantic City beach and dunes available in a variety of gift ideas including posters, prints, mugs and more!

More Cool Stores!

Check out these cool CafePress store for other cool and original gear!