Welcome to the merchandising site for Club 100 oriented items manufactured, sold and shipped by cafepress for Club 100, exclsuively.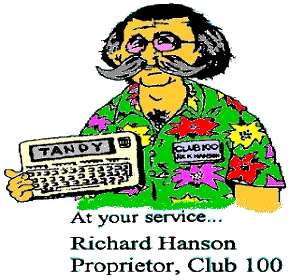 Club 100 started in 1983 supporting all Tandy/Radio Shack Model 100 computer owners, worldwide. Over the years, Club 100 appeared in WIRED Magazine, Invention & Technology Magazine, the San Francisco Chronicle, the Seattle Times, and the San Jose Mercury News. Club 100 was also presented in a CyberLife Television Segment, and on TechTV.
Club 100 represents the combined knowledge, wisdom, and enthusiasm of thousands of fellow Model "T" computer users worldwide, i.e., Model 100, 102 and 200. Indeed, it is through the unselfish sharing of individuals like yourself, that made Club 100 what it is today and keeps Club 100 alive and well for the future.
Please Note: You will find Model 100/102/200 software and hardware items at the main Club 100 web site: www.club100.org
Help keep Club 100 going. Buy this stuff...!
NOTE: All prices represent a small 10% over cost. That's it!