ClimbAddict Rock Climbing Gear > Let Jesus Be Your Belayer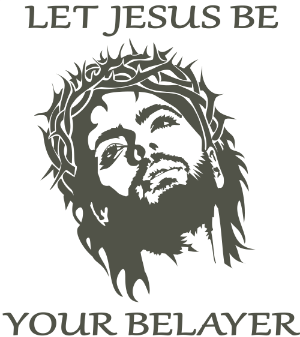 Let Jesus Be Your Belayer can go both ways, and that is the intent. For those who have faith in a caring God whom they call Jesus, what could be of more comfort than to know that that the Man has got your back?
Others, who are true believers in the Here and Now, will no doubt take comfort in the farce. What does Happiegrrrl believe? Well, she believes in Love. Doubtful that answers your questions, but if you pray over it, I'm sure the answer will come.