Welcome!
Welcome to my new online store! Thanks to CafePress.com, I am now selling a number of products with unique graphics on them. We have tees price ranged from 13.99 onwards. We will continuously upgrade and improve on our site, as well as adding designs every week, so check us out again ok? Please feel free to browse my store and buy anything you like!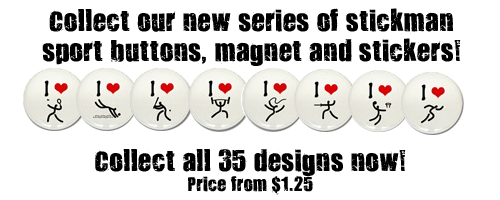 Wall Clocks

Here you will find all sorts of unique oriental wall clocks, ranging from Chinese numerals to the Japanese Kanji to Braille

The Stickman of Sports

Take a look at our 35 variation of stickman sports designs! Ranging from basketball to swimming and weightlifting. This stick figure collection are good gifts for all the sport lovers out there!

Chinese Words of Wisdom

We have over 60 Chinese characters for you to choose from and the vocabulary is still expanding, come back often to check out new words as gifts for your friends and family!

Sport Craze

Our cool sport designs and deafening slogans bring you to our new era of apparels

Funny Humor

Looking for tees to add some spice into your life? This is it! Take a look at my collection of funny and humorous tees

Mum's Corner

This section is dedicated to all the mums and mommy-to-be! Buy gifts for your mothers and shower them with your love! Also check out our maternity clothes for all the mums-to-be!

Chinese Zodiac

Which Chinese Zodiac year were you born in? You can calculate your year with our Chinese Zodiac year calculator inside!

Singapore Photography

We have beautiful and colorful scenic shots of Singapore to be given as gifts to your friends and family!