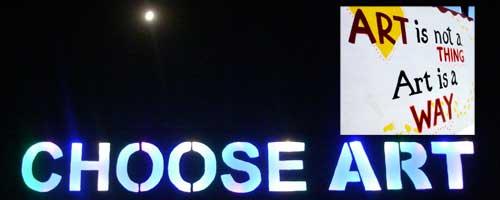 Art is not a thing. Art is a WAY.
Let's all CHOOSE ART! These designs give the world more encouragement to think about art, talk about art, make art, inspire art, and enjoy art.
You can hear the artists' statements and read the original story of CHOOSE ART at www.mepsnbarry.com.
"Art is not a thing. Art is a WAY" was made especially for artists, friends of artists, family of artists, and people who want to be artists. It is also appropriate for sculptors, painters, jewelers, ceramicists, fiber artists, illustrators, designers, photographers, dancers, musicians, writers, poets, dreamers, Burners, and creative people.
Might also be appropriate for engineers. Use with caution.