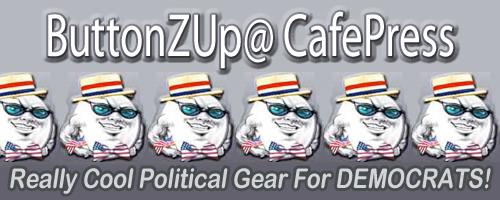 WELCOME to Buttonzup @ CafePress.com
ButtonZup offers a Variety of Political Products Designed Especially for the Discerning Democrat. Check Out Our Unique Political Gear, We hope that You'll Make ButtonZup Your Source for Unique Democrat Shirts, Stickers, Mugs and So Much MORE! ButtonZup features Democrat Political Themes including Bernie Sanders for President 2016, Elect Hillary Clinton 2016, Democrat Donkey Mascot, Yellow Dog Democrat. Show your support for Hillary, Bernie and The Democrat Party when you Proudly Wear and Display Our ButtonZup Democrat Swag.
We also have Save Social Security, Democrats Support Our Soldiers, Our Founding Fathers as well as a Variety of Bill Clinton T-Shirts, Stickers & Buttons. Designs include: Bill Clinton for Vice President, Betcha miss Bill Clinton, Bill Clinton First Gentleman and more. You'll be sure to find something here for yourself and all of your Politically Active Democrat friends and family.
UPDATE
Looks Like Bernie Sanders and Hillary Clinton are going to make the process for Nominating a Democrat Presidential Candidate in Election 2016 a Very Interesting One. Show your support of the candidate of your choice with our Cool Gear. Thanks for Shopping ButtonZUP!
Democratic Donkey Gear

Democratic Donkey Shops featuring Our Dem Donkey We CAn Do it Gear and Our Vintage Retro Democrat Donkey Merchandise for Democrats of all ages.

YellowDogDemocrat.comClick Here for Our Popular
<B>Yellow Dog Democrat</b> online store. We've also got Blue Dog T-shirts, mugs, stickers and now Buttons too! Pick up a few gift items for all of the members in your pack

The Fire Bush Lady ShopVariety of Political Designs inspired by the Fire Bush Lady of Mississippi! Current events, Anti-Bush, Anti-War
and Democratic Themes are featured.

Barack Obama Special Edition Gear

Our Barack Obama Special Edition Gear features Obama is my Homeboy, Presidential Hopeful, Barack & Roll and Obama Dare to Hope T-shirts, Buttons, Stickers & More.

<B>2008 Dem Candidate Gear</B>

Our 2008 Dems are: Hillary Clinton, Barack Obama, John Edwards, Howard Dean, Joe Biden, Chris Dodd, Bill Richardson, Al Sharpton, Mark Warner, Tom Vilsack, Al Gore

ButtonZUP Political Issues Shop

Shirts, Buttons, Bumper Stickers featuring themes like: UAE Port Deal, Harold Ford Jr., Support our Troops, Social Security, Our Founding Fathers and More.

Obama Homeboy Special Edition Dark T-Shirt


$23.99

Vote dem 2006 Kicking Donkey White T-shirt


$18.99