Bride T-shirts, Personalized Wedding Gifts, Favors > Wedding Affiliate Program
*MAKE MONEY with our Wedding AFFILIATE PROGRAM*
Start earning extra cash now with the Cafepress.com Affiliate Program! It's FREE and EASY to join! As an Affiliate you will enjoy a generous 15% commission on all qualifying sales plus 30 return days on all visitors.
The Cafepress.com Affiliate Program is conducted in partnership with Commission Junction - www.cj.com
To Learn More Click Here!
To go directly to the Sign-up Page Click Here!
If you already have a Commission Junction account, Click here.
_______________________
When you join the Cafepress Affiliate Program thru Commission Junction, you will be assigned a PID number. WARNING: Your PID # is NOT your ACCOUNT #. In your CJ account settings when you add a new website to your profile, each website is issued a PID. This is the # you will use to generate self-created links.
You may use any of the banners below, just substitute the "PID" with your assigned "PID" number and you're good to go. [ EXAMPLE: if your PID is 123456, the link would look like this after you replaced PID with 123456: http://www.qksrv.net/click-123456-10463747?URL=https://www.cafepress.com/bridegifts"]
_____________________
Lesruba Weddings AFFILIATE BANNERS & TEXT LINKS:
SHOP TEXT LINK
Wedding T-shirts, Tote Bags and Gifts
Bride and Groom t-shirts, Wedding Party T-shirts, Tote Bags & Gifts. Bachelor Party t-shirts, Bachelorette Party T-shirts, Mugs, Hats & Buttons. Wedding Cards and Stamps and More!


468x60 Bride T-shirts banner

468x60 Bachelor & Bachelorette T-shirts banner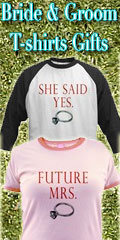 120x240 Bride & Groom T-shirts banner

120x90 Bride T-shirts banner

120x90 Groom T-shirts banner
468x60 banner
468x60 wedding affilliate banner
468x60 wedding doves banner
468x60 banner
120x240 banner
468x60 Bridal Banner
468x60 Bachelor Banner
468x60 Bachelorette Party Tshirts
120x240 Bachelorette Party Tshirts
468x60 bride t-shirt banner
468x60 Bridal Tote Bag Banner
---------------------------------------------------
Text Links to Specific Wedding Sections of our Store
Bride T-shirts and Gifts

Groom T-shirts and Gifts

Bachelor Party T-shirts

Bachelorette Party T-shirts

Bridesmaid T-shirts and Gifts

Groomsmen T-shirts and Gifts

Second Marriage T-shirts and Gifts

---------------------------------------------------
Other Lesruba Designs Shops you might be interested in promoting as an Affiliate include:
Lesruba Designs Online Store
Yoga T-shirts & Gifts
Halloween Treats
Long Island Nice Tees
Orelda & Corelda Wall Street & NYC Souvenir Shop