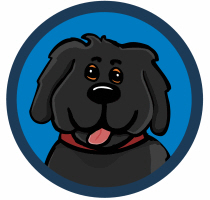 Welcome to A Dog's View
- the online store for dog lovers everywhere
Please come on in and browse around - we have loads of cards and gifts of all kinds. If you love dogs - or need to find a great gift for someone that does - this is the place for you!
Just added:
* New ranges and designs featuring West Highland Terriers - perfect for Westie lovers!
* customizable products - add your own words
* iPad & iPhone cases
* Christmas cards and stockings
* 2 completely new design ranges
* Lots of great new products in all our best-selling designs
* Cards in our favourite Newfie, Jack Russell & Mutt designs
* A fab new Newfie House section - which most Newfoundland owners will understand instantly!
* A fabulous new I Love My Dog range - with Newfoundland, Jack Russell and Mutt designs
* New additions to our Newfie and Jack Russell Relations sections - and now with both UK & US spellings!
* Our new range for St Bernard dog lovers

**Sign up for our newsletter and be the first to know when we add new designs and products - and all other news from www.a-dogs-view.com. Just enter your email address in the form opposite or email webmaster@a-dogs-view.com and say hello in person!
Can't find the specific design or words you want? Just email webmaster@a-dogs-view.com and let us know - if we can add it we will!
If you work with a dog rescue group and would like to re-sell any of our products to raise money for your work, we would love to help. Please email webmaster@a-dogs-view.com for more information and for specially discounted pricing.
Newfie Relatives

Things for Newfie Relatives - mums, dads, grannys & grandads. If you are a proud "official" relative of a newfoundland dog - or know someone that is (or is soon to be) - come in and visit!

Jack Russell Relations

Things for Jack Relatives - mums, dads, grannys & grandads. If you are a proud "official" relative of a Jack Russell Terrier - or know someone that is (or is soon to be) - checkout this section.

Westie Relations

Lots of stuff for Mums, Moms, Dads, Grandmas and Grandads for West Highland Terriers!

Pawprint

Our classic Pawprint range. A full range of clothing, cards, bags, mugs, badges and other goods with this classic, definitive image.

Westie Attitude

Small in leg length but huge in personality and attitude, West Highland Terriers are a breed apart

Cards

The pick of our range of Newfoundland, Jack Russell and other dog cards - with blank cards suitable for any occasion and special cards for seasonal celebrations.

Newfie - Snow (Rd)

Newfoundland in snow - all kinds of things to give, wear, use and write on - all with our classic newfie winter image

Jack Russell - Snow

Jack Russell in the winter snow landscape - all kinds of things to give, wear, use and write on - both for humans and dogs!

Newfie - Snow (Sq)

Newfoundland in the winter snow landscape - all kinds of things to give, wear, use and write on - all with our newfie in the winter images

Santa Signs

Our latest additions - special Santa Stop Here signs with our most popular Jack Russell and Newfoundland designs

Pawprint - Customisable

Now you can add your own message to our best selling Pawprint range. There's a huge range of T-Shirts, Sweats, Bags, Flasks, and lots more to choose from - so get creating your own totally unique item

Jack Russell - Custom

Create your own unique Jack Russell T-Shirt, Sweatshirt, Flask, Sticker ..... or lots more!

Newfie - CustomizableOur best selling newfie design but this time ready for you to add your own message.
Make your own totally individual newfoundland T-Shirt, Bag, Sticker, Flask .... and lots more.

Newfie - SlobberyAll kinds of things showing Newfoundland in typical slobbery pose. Every newfie owner will recognize this one!
Items available with & without slogans.

Wake Up for Dinner

Most dogs we know do consider sleep a major task in their day - and few things other than food (and maybe walks) come close!

Sleep is the AnswerDogs sometimes get it right - it's amazing how many things can be solved by a nice rest!
This design is perfect for anyone with dogs - or teenagers!

Newfie House

Most newfies owners quickly realise that clean & pristine houses and Newfoundland dogs are not a good match! So celebrate those pawprints (and the end of pristine decoration) with our great new range

Noisy JackJack Russells do tend to be keen to give everyone the benefit of their opinion - especially anyone who comes near that front door -
So we might as well celebrate it!

St Bernard

A special section for St Bernard Lovers.

I Love My Mutt!

Lots of things to wear and use to make it clear how much you love your dog.

I Love My Westie!

Tell the world how much you love your West Highland Terrier dog with our unique I heart my Westie design.

I Love My Jack Russell!Jack Russell owners - tell the world how much you love your terrier!
Lots of things to wear and use to make it clear how much you care.

I Love My Newfie!Newfoundland owners - tell the world how much you love your newf!
Lots of things to wear and use to make it clear how much you care.

Newfie - Angel!

Angelic Newfie - a huge range of things to give, wear, use and write on - all with this image of our newfie trying so hard to convince everyone he is just perfect!

Jack Russell - Angel!

Angelic Jack Russell - a huge range of things to give, wear, use and write on - all with this image of our Jack Russell trying so hard to convince everyone he is just perfect!

Doggie - Angel!

Angelic Dog - a huge range of things to give, wear, use and write on - all with this image of our dog trying so hard to convince everyone he is just perfect - though the chewed slipper shows otherwise