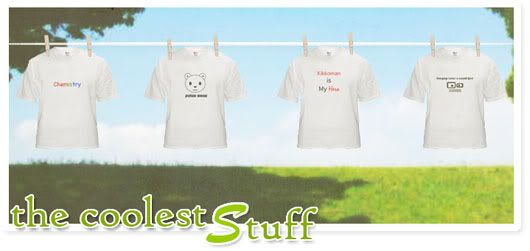 Welcome to 'The Coolest Stuff!'
'The Coolest Stuff' is an online store run by The T-shirt Business Club at Lowell High School, San Francisco, CA. We offer a wide range of products, from t-shirts and hoodies to tote bags and aprons to stickers and mousepads. All of our products feature original designs created by our Lowell club members. To get started, you can select a product type or category from the right-hand sidebar. As of this moment, we have categories ranging from 'Cute' to 'Science'! To return to 'The Coolest Stuff', click on the 'Shop Home' link on the right-hand corner. Happy shopping!
About The T-Shirt Business Club
All the designs you see here are created by Lowell High School students in the T-Shirt Business Club (except "ChemIsTry"-- Dr. Marten made that one). The T-shirt Business Club is all about having fun while exercising your creativity (and making a few bucks for the club and the Lowell science department in the process). If you have any suggestions or comments, email them to tshirtbc@yahoo.com. Have some cool stuff in mind? Just tell us what designs you are looking for, and we'll try our best to make them!
And if you happen to go to Lowell High School, be sure to check us out! Join the T-shirt Business Club or buy some cool stuff from us!