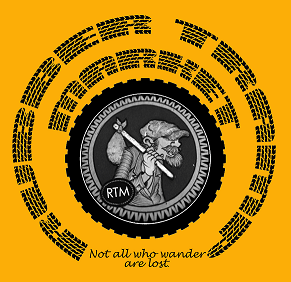 Welcome to the Rubber Tramp Market. I'm a Traveling Musician, Street Performer, Artist/Designer and Teacher. I teach Rewilding philosophy & Primitive Living Skills. I live and travel full time in a RV, performing, teaching and feeding the poor.
Recently my RV completely died and had to get rid of it. I'm stuck in limbo at the moment, struggling to find a temporary job in my home town to raise the money to get another RV.
Not easy since it's a very very very small town and not very many businesses here. None the less I'm trying.
Busking as a musician doesn't work here. Most places I can busk $60 to $100 a day, depending on the town/city. But I don't care to camp outside in big cities. So I decided to return to my home town where I have a roof over my head and to give cafepress another try.
I have had small success with it in the pass, but just really didn't put enough effort into it. This time I'm going to really try.
Here I will offer designs associated with my lifestyles, loves, hobbies and anything I thought would look cool on a shirt.
If I have a design that I don't have on a product you like to have it on, let me know and I'll add that product.
Anyway, the money I make from this store goes toward my next RV.
Enjoy!
Exclamation

For when something just has no words to express. lol