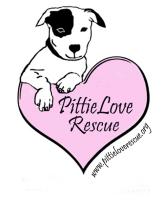 Welcome!
PittieLove Rescue, Inc. Mission Statement - Our number one goal is for our rescued dogs to never suffer from neglect or abuse again and to place our rescued dogs into loving homes where they will be Breed Ambassadors..


PitteLove Rescue Inc. is an all volunteer, foster home based rescue dedicated to the care, understanding, rehabilitation and adoption of American Pit Bull Terriers, one of the most abused and misunderstood dogs of all time.
We work closely with local shelters, animal control and other rescues. We rescue dogs that are often on "death row", strays and occassionally owner surrender dogs. Once the dogs are rescued, they are placed into loving foster homes, provided with quality veterinary care, lots of socialization with people and animals of all ages. Our dogs are up to date on their vaccinations (age approriate) and are always spayed and neutered, and micro-chipped.
Our strict adoption policies that include home visits, personal and vet reference checks help to ensure that our rescued dogs go to their forever homes and never suffer from abuse or neglect again