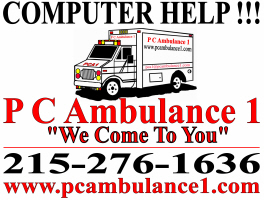 Welcome!
This is our new online store! After 8 years of service, we are now selling a number of products with unique graphics and logos on them.

These items make great gifts for friends, family co-workers, etc.
*Go Green With P C Ambulance 1
Get a Go Green item, Get rid of some old computer equipment and help the environment all at the same time. Purchase any PCA1 Go Green Item, and P C Ambulance 1 will pick up, haul away and recycle 1 old computer system (computer, keyboard, mouse, monitor, speakers and printer) It's all for a good cause, Lets Go Green Together.
*Philadelphia area only
*Residential only, No Businesses
*1 item = 1 system

P C Ambulance 1 is a company that prides it self on quality workmanship with a superb customer service record. We believes that customers should have a choice of in home/office service or carry in service, the choice is yours. P C Ambulance 1 was established in the year 2000, Philadelphia Pa. Our technicians all have Degrees or Certificates in Computer technology, Software and Hardware. Our ambulance logo shows a sense of care and professionalism we pledge to all of our customers and their equipment. We care for your computer like it's one of ours. No one likes to be without their computer for long periods of time, that's why we give prompt service. P C Ambulance 1 strives to be number 1.