Welcome to Meme Me

"…and so it was that a cry went up to the heavens; a desperate plea to the Gods. Those who yearned to convey the inner, who longed to be both different and accepted, raised their voices in united prayer. And so it was that Meme Me arose…"
Ok, admittedly it wasn't that epic. We just wanted to put geeky stuff on T-Shirts.

Our distinct designs contain a healthy dose of humor, attitude, sarcasm and irony. They contain references to geekdom, pop-culture, internet memes, fandom, and stuff we just plain made up. If you're a geek, nerd, dork, free-thinker, deep-thinker, revolutionary or just want to stand out from the crowd, we've got something for you.
Be yourself. Express yourself. Get the idea.

We have a range of eclectic designs on t-shirts, bags, mugs, magnets and more, so it is easy to find a unique gift for any occasion.

If you have any questions or comments, feel free to contact us.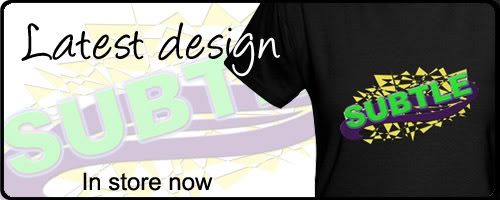 Browse by category:
Show Me

A selection of TV related items, including designs relating to Doctor Who, Veronica Mars and Jericho.

Teach Me

A selection of education and career related items, including areas such as music, mathematics, law and general study.

Tag Me

A selection of items relating to technology, and including designs featuring HTML code and Internet allusions.

Misc Me

A selection of miscellaneous items relating to the wonderful world of geekdom, including various geek and nerd references and memes.