Shopkeeper Info | Links | Add link | Affiliates | Awards | Other Cafepress Shops
Here, Kitty Kitty | Cat Sign | Cats Up-Close | Cat Breeds | My Cat, My life
Series 2: My Cat, My life | My Backyard Gallery | Kulay, Hugis..Babae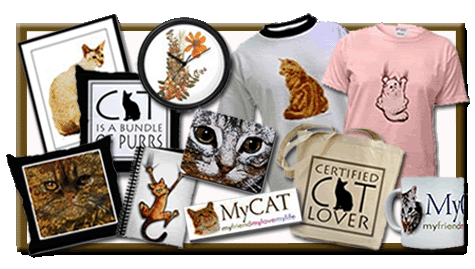 Cat gifts! Cat designs! This online store is purr-fect for those who adore nothing else, just cats!
Feel free to lurk around and pounce on merchandise! You can find cat designs on shirts, mugs,
tote bags and more! Happy Shopping! Your meow's welcome!
Here, Kitty Kitty | Cat Signs | Cats Up-Close | Cat Breeds | My Cat, My life
Series 2: My Cat, My life | My Backyard Gallery | Kulay, Hugis..Babae
BLACK SHIRTS!!!!

Black shirts are here at last! See a few of my cats on black and some simple art designs!

NEW!!!! Warhol-Inspired Cats

I love the dark lines Andy Warhol uses! These collage of cats were based on what I consider my 'warhol' style! Colorful pop-art to add life to your gifts!

Cat Breeds

Love cats of all shapes and sizes? This is where it is!

Here, Kitty Kitty

We've got 7 of these adorable felines clinging to your merchandise! You'll never know till it hurts! Ouch!!!

Cat Signs

What are you waiting for? Cat Signs designs for all cat lovers everywhere! Yeh, my dog loves 'em too.

Cats-Up-Close

Get up close and purr-sonal with these new cat designs! Click here and see!

MyCatMyLife DesignsMyFriend, MyLove, MyLife-- My Cat!!
Any cat-loving human would simple adore these 4 new cats! "You took the words right out of my mouth!"

ZsaZsa Zaturnnah

Huwag mo nang itanong kung bakit...This well-loved Filipino graphic novel now invades Cafepress with designs and quotes from Carlo Vergara's masterpiece.