Contact us at art@misfitdesignshq.com if you'd like a design on a product you don't see offered, for personalized products, or custom artwork.
NEW! DERBY DARLING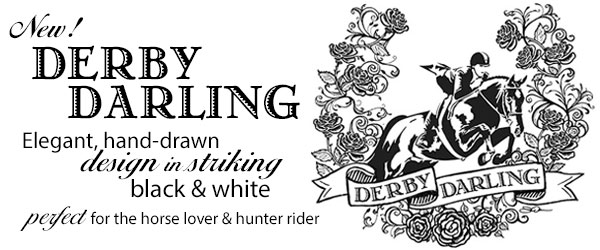 HORSE HEALTH MATTERS SERIES: A humorous look at horse health & behavior

Now fans of Dear Murray's Facebook page can have their very own Dear Murray merchandise!

Shop Dear Murray Products now!

Horse Humor
Funny stuff that's perfect for horse lovers of all ages

The Near Side
A slightly warped (okay, a REALLY warped) look at horses.

Mac & Jill
Follow the adventures of Jill and her horse, Mac

Calendars
Pick your favorite and choose your starting month

Kids Bed & Bath
Perfect for any horse crazy kid's bedroom or bath

Holiday Stuff
Holiday stuff you can buy all year round.

Framed Prints
Our most popular designs, framed & ready to hang

Horse-isms
Timeless advice straight from the horse's mouth

I am A Professional
Honor the professionals in your horse's life

Honor Thy Farrier
Saluting unsung shoers everywhere

Vintage Collection
Horse husband, Fossils over Fences and more

Barn Rat Series
Barn Rat, Doody Calls, Hat Hair & Lunch Lady

We Be Hackin'...
...or rollin', or groomin' or muckin'

The "I" Series
Okay, so you voted. What else did you do that's noteworthy?

Not For Sissies
No Snivelin', I'm not mean, Little Miss and others

Chestnut Mare
Celebrating the spirit of the Chestnut Mare within us all

Equine Art
The beauty of the horse expressed in art

Foal Patrol
Welcome the new colt or filly in the family

Wall Peels
Repositionable wall art. Do not apply to horses

Misfit Card Shop
A collection of posters and cards for all occasions