Irony Design Fun Shop - Humorous & Funny T-Shirts, > Silly Humor > Burning Stare of The Gnomes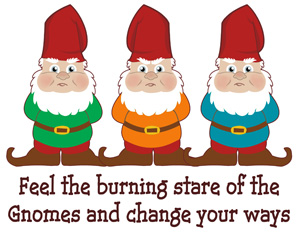 "Feel the burning stare of the Gnomes and change your ways"
This funny saying will certainly draw the attention of others. 3 cute Gnomes staring right at.. whoever is looking. On T-Shirts, Mugs, Stickers, Buttons, Posters, Greeting Cards, Postcards, Clocks, and More!

We have more Gnomes designs with different funny slogans / sayings:
+ The gnomes made me do it
+ Hangin' with my gnomies
+ One by one the gnomes steal my sanity