Welcome!
Welcome to my new online store! , I am now selling a number of products with unique graphics on them. Please feel free to browse my store and buy anything you like .......click on the picture that interest you.
A FEW ITEMS FROM MY MAIN SITE "BLAME MY PARENTS"
we sell items out of the country (usa,canada,austrailia) -you can pay by credit card and we deliver
we also have a 30 day warrenty with no questions asked. for questions on any item email me at sunzup4u@aol.com Come visit my store on CafePress! note ... <--.LOOK ON THE LEFT SIDE FOR LINKS these items are designed in the u.s.a. -made in the u.s.a and shipped our of the U.S.A. PLEASE VISIT THIS SITE ALSO SADDOGSHIRTS.COM (ADDRESS BELOW) http://saddogshirts.com/blamemyparents and htttp://www.cafepress.com/doubledawgdareu and if you LIKE PIGS go here http://www.cafepress.com/pigsandstuff == please click on the "ole man winter picture" and vote for this artist thanks much......
BE SURE TO VIEW ALL BACKS OF ITEMS BEFORE PURCHASING!
i support the fight on cancer......I donated a short sleeve shirt to a friend for a cancer event on feb26.2008 with words of "support the fight on cancer- i did"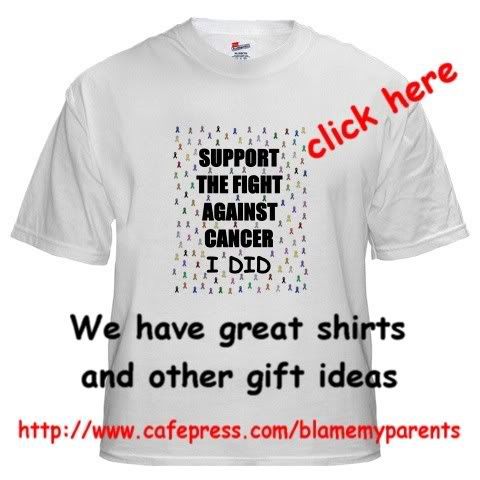 http://www.cafepress.com/shop/shop.aspx?topic=fathers-day&pid=1073654

a> http://www.cafepress.com/blamemyparents http://members.aol.com/sunzup4u/blues.gif

GRADUATION STUFF (LINK BELOW) http://www.cafepress.com/shop/shop.aspx?topic=graduation?pid=1073654 == doubledawgdareu to click the dog picture :)




==== to read about the free shipping go here (ends nov 26) use code SHIP07 http://www.cafepress.com/content/global/img/home07_banner_freeshipping.gif -----or read this * Free Economy or Standard shipping for purchases of $75 or more, excluding shipping charges and applicable sales tax. Delivery address must be within the United States. All orders will be Economy shipping unless, the order is not eligible for Economy shipping (e.g., order exceeds Economy weight restrictions). Coupon code must be entered at check out. Promotion starts on November 17, 2007, at 12:00 a.m. (PST) and ends on November 26, 2007, at 11:59 p.m. (PST). See Shipping Information for additional shipping options. Cannot be combined with any other offers, discounts or coupons. ARE PILLOWS ARE NOW AVAILABLE AND SOON WE WILL BE ABLE TO SEND OTHERS CAFEPRESS CERTIFICATES




=== == FOR ALL THE BABY CARTER SHOPPERS OUT THERE CLICK ON PICTURE BELOW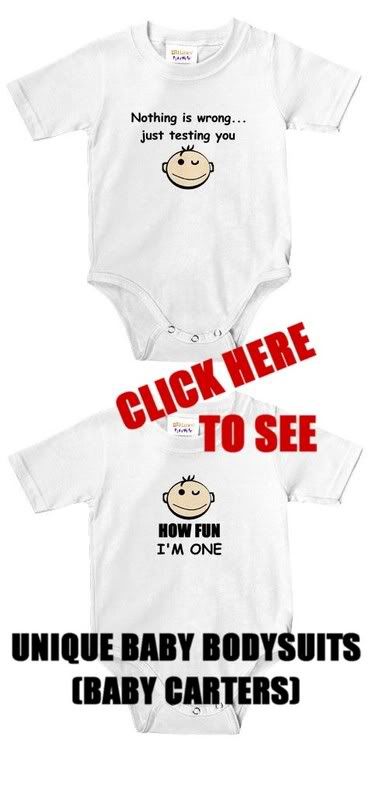 click to see baby carters yep this is me ....... (picture below) ==
========== ......its my squidoo site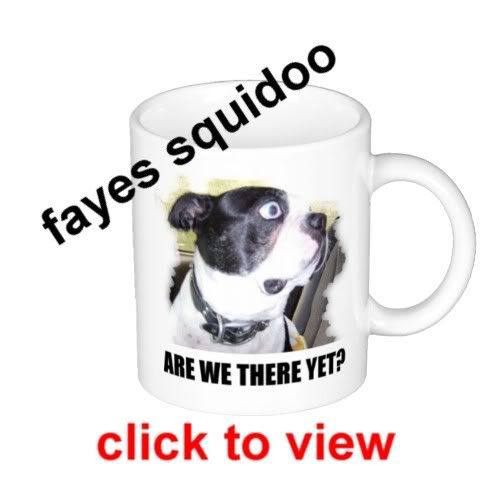 === sample of a get caked pink t-shirt from my shop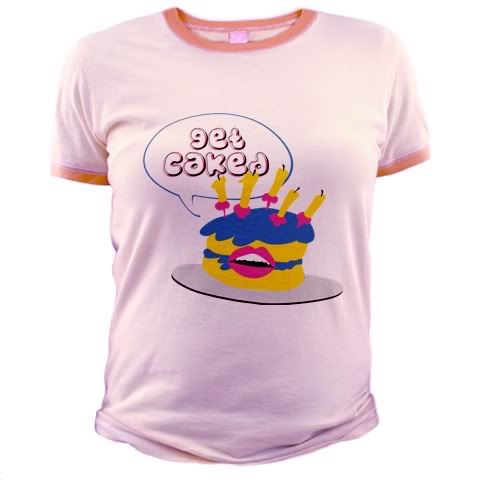 CHRISTMAS ORNAMENTSPLEASE BE PATIENT WITH THIS SECTION... NEW
WE WILL BE ADDING MANY MORE ....
GREAT FOR THE XMAS HOLIDAYS
PERFECT TO HANG ON THE TREE OR ON A SHELF
GREAT TEACHER GIFTS ALSO

BE MY GINGERBREAD MANGINGERBREAD COOKIES WITH WORDS OF
"BE MY GINGERBREAD MAN" WOULD LOOK GREAT ON CHRISTMAS CARDS,MUGS,T-SHIRTS AND MORE
FUN LOOK FOR THE HOLIDAYS
SEND A GIFT TO A SPECIAL SOMEONE IN YOUR LIFE

GET CAKEDPERFECT FOR ANY PARTY
ESPECIALLY FOR A BIRTHDAY PARTY
THIS BIRTHDAY CAKE WITH CANDLES AND WORDS OF "GET CAKED" IS VERY HUMOROUS
........ONE OF A KIND


moose head

great look on stickers,magnets,buttons,mugs and more

JUST HATS- (caps)GREAT HATS/caps HERE
CLICK ON THIS PICTURE TO VIEW MORE HATS
PERFECT FOR BIRTHDAYS ,CHRISTMAS OR JUST FOR FUN
unique gift idea for any holiday

super cafe this was done for the super cafe shop
for more info email me at snoopdawg4u@aol.com

you can get these items in white,black and other colors
add additional 3.00 for art on back.......
email me at

SUN STARA VERY CREATIVE SUN STAR DESIGN
UNIQUE AND PERFECT FOR ANY TIME OF THE YEAR
WEAR THIS ENERGY ON YOUR SHIRT
WEAR IT ON THE BEACH.

New Sectionsummer camp items are fun to wear to camp or just during the summer
great for frog lovers
fun on a mug,t-shirt, hoodie orkid /toddler/infant shirt

i love daddy xoxogreat item to give dad for father's day-
perfect gift also for valentines day or just to say i love you xoxo

JUST STICKERSALL THESE ITEMS ARE FUN ON A STICKER
COME SEE .......CLICK ON HERE

GREAT ON LOCKERS,BOOKS,CARS,BOATS AND WHATEVER.......

HAPPY FATHER'S DAYGREAT LOOK FOR FATHER'S DAY
PERFECT TO GIVE DAD ON THAT SPECIAL DAY
WE HAVE THIS ON TANK TOPS,T-SHIRTS,HATS,TOTE BAGS AND OTHER UNIQUE ITEMS

CLEAN EARTH NOWCLEAN EARTH NOW
BEFORE IT'S TO LATE
GREAT ITEMS TO WEAR ON EARTH DAY
ALSO A GREAT MESSAGE FOR THE WORLD.........

KISS MEKISS ME ITEMS ARE PERFECT ON STICKERS,MAGNETS ,BUTTONS ,T SHIRTS,TANK TOPS ,BABY CARTERS,CARDS,THONGS, AND LOTS MORE

I WILL HAVE MANY MORE ITEMS LISTED....

sarcoma cancer hero (yellow ribbon)perfect to wear if you had a father who is a sarcoma cancer hero
.........artwork on back is only 3.00 more .....interested email me at sunzup4u
@aol.com or snoopdawg4u2@aol.com


TODDLER T SHIRTSCLICK HERE TO SEE A VARIETY OF UNIQUE TODDLER T SHIRTS......
GREAT FOR ALL OCCASIONS
EMAIL FOR MORE INFO AT SNOOPDAWG4U2@AOL.COM


boston bubbleswhat a great look for a card,postcard,mug,magnet or other unique gift
perfect for valentines day

CHRISTMAS KITTYWHAT A CUTE CAT

GREAT FOR THE HOLIDAYS
BUY A MAGNET OR OTHER UNIQUE GIFT FOR THE ONES YOU LOVE ON YOUR CHRISTMAS LIST


KIDS RULEGREAT LOOK FOR KIDS
ARTISTIC AND UNIQUE
PERFECT XMAS OR BIRTHDAY GIFT
CLICK HERE TO VIEW THESE ITEMS

LOVE PINKGREAT LOOK
IF YOU LOVE PINK THIS IS YOUR ITEM
CUTE ON BIRTHDAY CARDS

IT'S MY BIRTHDAY

IT'S MY BIRTHDAY ITEMS LOOKS GREAT ON MUGS,STICKERS,MAGNETS,BUTTONS ,CARDS AND MORE

PARTY WITH THE ANIMALSSUPER GREAT LOOK FOR A PARTY
PERFECT ON CARDS,T-SHIRTS,POSTERS,BABY CARTERS ,MAGNETS,STICKERS,BUTTONS AND MORE--
PERFECT FOR A PETTING FARM LOOK

ABSTRACT DESIGNS GREAT FOR ROOM DECORATIONS
MUGS,TOTE BAGS,T-SHIRTS,TILES,MOUSE PADS,CARDS,POSTCARDS,TANK TOPS,JERSEYS,THONGS,BOXER SHORTS,TODDLER TEES,JEWERLY BOXES AND MORE

MONKEY BUSINESS 4UMONKEY BUSINESS 4 U ITEMS ARE PERFECT AT THE WORK PLACE
...GREAT ON BUTTONS ,CARDS, BABY ITEMS,MUGS,POSTCARDS AND MORE
GIVE FOR FATHER'S DAY,MOTHER'S DAY,BIRTHDAY,AND OTHER HOLIDAYS
HANG

YES I'M IRISHYES I'M IRISH ITEMS ARE PERFECT FOR ST PATRICKS DAY OR A BABY SHOWER GIFT
UNIQUE LOOK......LUCKY CLOVER
WEAR GREEN

FORTUNATELY BORN IRISHFBI .....FORTUNATELY BORN IRISH
GREAT ITEMS FOR ST PATRICKS DAY
ALSO PERFECT FOR A BABY CARTER..
MAKES A GREAT GIFT FOR ANYONE
HAS A 4 LEAF CLOVER ON SOME OF THE BACKS OF ITEMS

LUCKY 4 LEAF CLOVERWHAT A GREAT LOOK FOR ST PATTYS DAY.....
A 4 LEAF CLOVER WITH A BIT OF LUCK.........
DONE BY A TRUE ARTIST

BOXER FACEboxer face
a very handsome look on any item

buy for stamps, cards,photos,tote bags and more

MAKE A DIFFERENCETHIS IS A GREAT LOOK FOR ANYONE AND EVERYONE TO MAKE A DIFFERENCE........
A GREAT WAY TO EXPRESS TO CARE FOR OTHERS
PERFECT FOR CHAIRITY GROUPS TO GIVE OUT FOR PRIZES........FROM THE RADIO,TV OR JU

T SHIRTS FOR TODDLERSGREAT SHIRTS FOR TODDLERS
PERFECT FOR BIRTHDAY GIFTS, AND OR VALENTINES DAY
CUTE TEES FOR KIDS.......

MONKEY LOVEMONKEY ON THE FRONT AND THE WORD LOVE ON MOST OF THE ITEMS ON THE BACK
SUPER CUTE FOR T SHIRTS,BABY ITEMS,HOODIES,JOURNALS,STICKERS,MAGNETS AND OTHER UNIQUE GIFTS

HOTrageous a HOTrageous design
with daisy like flowers and pink hearts

great for t shirts,tank tops,hoodies,journals,mousepads,baby shower gifts, greeting cards,stamps ,stickers,buttons,magnets,thongs,box

FLYING PIGA FUN LOOK
GREAT ON JOURNALS,GREETING CARDS,BABY CARTERS,STAMPS,STICKERS,BUTTONS,MOUSEPADS AND OTHER UNIQUE GIFTS

LUCKY CLOVERLUCKY CLOVER
GREAT LOOK FOR ST PATRICKS DAY OR THROUGHOUT THE YEAR
GET LUCKY WITH THIS LUCK CLOVER

super cafe black


$24.99

White T-Shirt


$21.99

Jr. Jersey T-Shirt


$27.99

Light T-Shirt


$20.99

Golf Shirt


$24.99

Women's T-Shirt


$22.99

Jr. Spaghetti Tank


$22.99

Fitted T-Shirt


$23.99

Yellow T-Shirt


$19.99

Green T-Shirt


$19.99

Women's Light T-Shirt


$20.99

Organic Cotton Tee


$25.99

Value T-shirt


$15.99

Jr. Ringer T-Shirt


$22.99

Women's Tank Top


$19.99

Men's Sleeveless Tee


$19.99

Ringer T


$20.99

Women's Cap Sleeve T-Shirt


$22.99

Dark T-Shirt


$24.99

Women's Dark T-Shirt


$28.99

Women's V-Neck T-Shirt


$21.99

Women's V-Neck Dark T-Shirt


$27.99

Women's Plus Size Scoop Neck T-Shirt


$29.99

Women's Plus Size Scoop Neck Dark T-Shirt


$30.99

Women's Plus Size V-Neck T-Shirt


$29.99

Women's Plus Size V-Neck Dark T-Shirt


$30.99

Maternity T-Shirt


$30.99

Maternity Dark T-Shirt


$30.99

Men's Polo


$39.99

Women's Polo


$39.99

Men's Sleeveless Tee


$19.99

Tote Bag


$17.99

Oval Sticker


$4.49

2.25" Button


$4.73

2.25" Button (100 pack)


$124.98

2.25" Button (10 pack)


$23.98

3.5" Button


$5.99

3.5" Button (100 pack)


$199.99

3.5" Button (10 pack)


$29.99

BBQ Apron


$20.99

Baseball Jersey


$23.99

Bib


$14.99

Black Cap


$18.99

Boxer Shorts


$16.99

Calendar Print


$7.99

Cap


$20.99

Classic Thong


$13.99

Dark T-Shirt


$24.99

Dog T-Shirt


$20.99

Fitted T-Shirt


$23.99

Framed Panel Print


$39.99

Framed Tile


$13.99

Golf Shirt


$24.99

Green T-Shirt


$19.99

Greeting Card


$5.99

Greeting Cards (Pk of 10)


$20.99

Greeting Cards (Pk of 20)


$31.99

Hooded Sweatshirt


$39.99

Infant Bodysuit


$18.99

Toddler T-Shirt


$14.99

Journal


$14.99

Jr. Hoodie


$31.99

Jr. Jersey T-Shirt


$27.99

Jr. Raglan


$23.99

Jr. Ringer T-Shirt


$22.99

Jr. Spaghetti Tank


$22.99

Keepsake Box


$28.99

Kids Baseball Jersey


$20.99

Kids Dark T-Shirt


$22.99

Kids Hoodie


$26.99

Kids Light T-Shirt


$18.99

Kids Sweatshirt


$21.99

Large Framed Print


$39.99

Large Mug


$15.99

Large Poster


$22.99

License Plate Frame


$14.99

Light T-Shirt


$20.99

Long Sleeve Dark T-Shirt


$30.99

Long Sleeve T-Shirt


$25.99

Magnet


$4.73

2.25" Magnet (100 pack)


$124.98

2.25" Magnet (10 pack)


$23.98

Maternity Dark T-Shirt


$30.99

Maternity T-Shirt


$30.99

Ringer T


$20.99

Men's Sleeveless Tee


$19.99

Messenger Bag


$24.99

Mini Button


$3.49

Mini Button (100 pack)


$94.99

Mini Button (10 pack)


$14.99

Mini Poster Print


$8.99

Mousepad


$15.99

Mug


$14.99

Note Cards (Pk of 10)


$15.99

Note Cards (Pk of 20)


$23.99

Organic Cotton Tee


$25.99

Oval Ornament


$9.99

Ornament (Round)


$9.99

Throw Pillow


$22.99

Postcards (Package of 8)


$9.99

Rectangle Magnet


$6.99

Rectangle Magnet (100 pack)


$164.99

Rectangle Magnet (10 pack)


$24.99

Small Framed Print


$34.99

Small Poster


$17.99

Stein


$17.99

Bumper Sticker


$5.00

Oval Sticker


$4.49

Rectangle Sticker


$4.49

Sweatshirt


$35.99

Teddy Bear


$17.99

Tile Coaster


$8.99

Tote Bag


$17.99

Trucker Hat


$16.99

Value T-shirt


$15.99

Wall Clock


$17.99

White T-Shirt


$21.99

Women's Long Sleeve Dark T-Shirt


$30.99

Women's Cap Sleeve T-Shirt


$22.99

Women's Dark T-Shirt


$28.99

Women's V-Neck Dark T-Shirt


$27.99

Women's Light T-Shirt


$20.99

Women's Long Sleeve T-Shirt


$26.99

Women's Plus Size Scoop Neck Dark T-Shirt


$30.99

Women's Plus Size V-Neck Dark T-Shirt


$30.99

Women's Plus Size Scoop Neck T-Shirt


$29.99

Women's Plus Size V-Neck T-Shirt


$29.99

Women's Raglan Hoodie


$34.99

Women's T-Shirt


$22.99

Women's Tank Top


$19.99

Women's Tracksuit


$54.99

Women's V-Neck T-Shirt


$21.99

Yard Sign


$19.99

Yellow T-Shirt


$19.99

2.25" Button


$4.73

2.25" Button (100 pack)


$124.98

2.25" Button (10 pack)


$23.98

3.5" Button


$5.99

3.5" Button (100 pack)


$199.99

3.5" Button (10 pack)


$29.99

BBQ Apron


$20.99

Baseball Jersey


$23.99

Bib


$14.99

Black Cap


$18.99

Boxer Shorts


$16.99

Calendar Print


$7.99

Cap


$20.99

Classic Thong


$13.99

Dark T-Shirt


$24.99

Dog T-Shirt


$20.99

Fitted T-Shirt


$23.99

Framed Panel Print


$39.99

Framed Tile


$13.99

Golf Shirt


$24.99

Green T-Shirt


$19.99

Greeting Card


$5.99

Greeting Cards (Pk of 10)


$20.99

Greeting Cards (Pk of 20)


$31.99

Hooded Sweatshirt


$39.99

Infant Bodysuit


$18.99

Toddler T-Shirt


$14.99

Journal


$14.99

Jr. Hoodie


$31.99

Jr. Jersey T-Shirt


$27.99

Jr. Raglan


$23.99

Jr. Ringer T-Shirt


$22.99

Jr. Spaghetti Tank


$22.99

Keepsake Box


$28.99

Kids Baseball Jersey


$20.99

Kids Dark T-Shirt


$22.99

Kids Hoodie


$26.99

Kids Light T-Shirt


$18.99

Kids Sweatshirt


$21.99

Large Framed Print


$39.99

Large Mug


$15.99

Large Poster


$22.99

License Plate Frame


$14.99

Light T-Shirt


$20.99

Long Sleeve Dark T-Shirt


$30.99

Long Sleeve T-Shirt


$25.99

Magnet


$4.73

2.25" Magnet (100 pack)


$124.98

2.25" Magnet (10 pack)


$23.98

Maternity Dark T-Shirt


$30.99

Maternity T-Shirt


$30.99

Ringer T


$20.99

Men's Sleeveless Tee


$19.99

Messenger Bag


$24.99

Mini Button


$3.49

Mini Button (100 pack)


$94.99

Mini Button (10 pack)


$14.99

Mini Poster Print


$8.99

Mousepad


$15.99

Mug


$14.99

Note Cards (Pk of 10)


$15.99

Note Cards (Pk of 20)


$23.99

Organic Cotton Tee


$25.99

Oval Ornament


$9.99

Ornament (Round)


$9.99

Throw Pillow


$22.99

Postcards (Package of 8)


$9.99

Rectangle Magnet


$6.99

Rectangle Magnet (100 pack)


$164.99

Rectangle Magnet (10 pack)


$24.99

Small Framed Print


$34.99

Small Poster


$17.99

Stein


$17.99

Bumper Sticker


$5.00

Oval Sticker


$4.49

Rectangle Sticker


$4.49

Sweatshirt


$35.99

Teddy Bear


$17.99

Tile Coaster


$8.99

Tote Bag


$17.99

Trucker Hat


$16.99

Value T-shirt


$15.99

Wall Clock


$17.99

White T-Shirt


$21.99

Women's Long Sleeve Dark T-Shirt


$30.99

Women's Cap Sleeve T-Shirt


$22.99

Women's Dark T-Shirt


$28.99

Women's V-Neck Dark T-Shirt


$27.99

Women's Light T-Shirt


$20.99

Women's Long Sleeve T-Shirt


$26.99

Women's Plus Size Scoop Neck Dark T-Shirt


$30.99

Women's Plus Size V-Neck Dark T-Shirt


$30.99

Women's Plus Size Scoop Neck T-Shirt


$29.99

Women's Plus Size V-Neck T-Shirt


$29.99

Women's Raglan Hoodie


$34.99

Women's T-Shirt


$22.99

Women's Tank Top


$19.99

Women's Tracksuit


$54.99

Women's V-Neck T-Shirt


$21.99

Yard Sign


$19.99

Yellow T-Shirt


$19.99