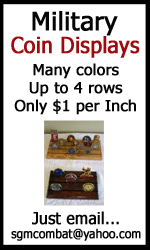 Browse by Product
Home
Care Package Ideas
Win a T-shirt
Military Poems


Kim Whelan
Shop Owner

I am a Military Wife with 3 great kids and my husband was deployed with OIF. I spend my spare time creating new and interesting designs that help promote awareness of our military troops. With 20 years of military lifestyle behind my back I can honestly say that the troops need our support now more than ever before. I dedicate a portion of the money I get from this shop to purchase various items for deployed troops. Enjoy your time in my shop and thanks for visiting!
Help Spread the Love
100% Money Back
Guarantee
On All Products
Shop from home with the comfort of knowing that your order is backed by a 100% Money Back Guarantee. This 30-Day Guarantee gives you plenty of time to check items for color, high-quality, and size for yourself, family and friends. If for any reason you need to return or exchange an item, just contact our Customer Service department and you're done!
Browse by Design
Your Shopping Cart
Need Help? Call us!
---
Most orders ship in
24 hours
We know you like getting your stuff as fast as possible, so we try to get every order shipped in 24 hours or less. Super fast!
---
100% satisfaction guarantee
Rest assured, we'll take it back (no questions asked). With our money-back guarantee, whether it's too small, too big, too orange or too (fill in the blank), simply contact Customer Support within 30 days for a full refund or exchange. Details
---
We value privacy
CafePress won't rent or sell your personal information for marketing purposes.
Lets remember our troops during the holidays. They sacrifice more than any can know.
Members of America's armed forces are serving around the world in places like Iraq, Afghanistan,
Kuwait, and Korea. Far from family and friends, these dedicated men and women have limited
access to the everyday comforts of being back home. Here's your chance to show your support
and make a difference! If you are a military mom or dad, wife, grandparent or other family member
you can show America's Soldiers, Sailors, Airmen and Marines how much you personally appreciate
their service. I have always and will continue to donate a portion of the money earned in my shop
to purchase requested items and gifts for the deployed troops and other military members serving our great country. HOOAH!

Support & Love our Military Troops
Copyright © 2002-2009 Kim Whelan All rights reserved.
Product design images and website content may not be used
for any purposes not specifically granted by Kim Whelan.
This includes Myspace, Photobucket, your personal webpages, etc.! Please ask to use. I don't bite.