Compassion Fashion > Animal T-Shirts and Other Animal Gifts > Bee T-Shirts and Bee Gifts
Bee T-shirts and gifts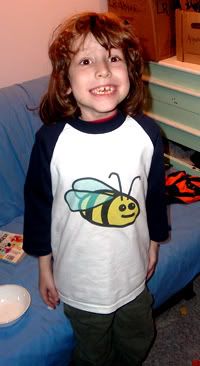 That's my gorgeous son Nicky modelling the Big Bee kid's baseball jersey. It was Nicky's idea to use the bee from my vegan Save the Bees design on its own. The result is a cute line of products that appeals to kids and grown-ups alike. (Nicky also created his own bee design).

There are so many things to love about bees—their industrious nature, which pollinates our crops; their cute pudgy bodies; their black and yellow stripes. Entomologists, gardeners, and animal lovers can all appreciate the beauty and usefulness of bees.

I've scoured the CafePress Market Place for the most appealing bee designs. The great thing about CafePress is you can choose from a variety of artists' shops, and all of your purchases will be combined conveniently in one Shopping Cart.

So if you're looking for bee gifts, bee T-shirts, bee mugs, bee stickers, bee magnets, bee buttons, bee posters, bee calendars, or other great bee products, look no further! Bumblebees, honey bees, queen bees, busy bees, you'll find them all right here.
Didn't find what you were looking for? Search the CafePress Market Place for more great bee designs!
bee T-shirts | bee hats and bee caps | bee greeting cards | bee U.S. postage stamps | bee stickers | bee buttons | bee magnets | bee teddy bears | bee mugs | bee aprons | bee mousepads | bee ornaments