CATscratches CafePress Store -Variety Merchandise > News, Tools and Coupons. > F.A.Q's
---
FAQ's


---
How do I see the Calendar Pages?
Why don't you have Plus Sizes?

Why is there men's clothing with a ladies' design?

Where's the actual Maternity Wear?
How is international shipping of gifts handled?
I'd like to get my pet's photo into your calendar.. How do I do that?
I know my photos are large enough! but they email small!
My question wasn't answered here?
Please email me at :
---
---
HOW DO I SEE THE CALENDAR PAGES??

When you click on the calendar, in the new window that opens up you will see a link UNDERNEATH the calendar that says "view calendar pages"
When you click THAT you'll see a close up of the cover...
Underneath the cover there are links to different months.
You can then click the months to see them!

---
WHERE'S THE ACTUAL PLUS SIZES??

Great News!
CafePress released Plus Sizes in March 2007!
They are available in Scoop Neck, and in V-neck, in both White and Black colors.
Hopefully more colors will be added later.

If you want a colored Tee that fits, and can't wait until then, I currently use the same solution for Plus Sizes as for Maternity.

See here for more.
---
WHERE'S THE ACTUAL MATERNITY WEAR??

It's in there! I'm just adding it slowly... I apologize...
My supplier Cafepress had promised that they would be introducing actual Maternity wear, They finally did around July of 2007.
Right about that time I began having computer issues.. so I added them to SOME maternity sections.. but I bet theres some I missed...
If you want something that's thus far available only in my PRE-Maternity wear solution, just
contact me
I'll get them added.
Meanwhile:
I've made the maternity designs, and in fact all ladies designs, available on men's size shirts and sweatshirts.

These, I'll be leaving even after adding the maternity, since it gives us ladies a wider variety of styles and sizes!.

The men's sizes should fit (almost) any woman needing maternity or BBW wear.
The largest T-shirt currently available is the "Value T-shirt" at 4X, but it is a great size for Third Trimester wear.


EXAMPLE:
I unfortunately haven't lost any size since I had my daughter.. And despite plus size, and maternity shape, I'm able to comfortably wear the men's Dark T-Shirt which is available in a wide range of colors and in sizes up to 3x men's.
EXAMPLE:



Congratulations on the eminent event!


---

How does international Shipping of Gifts Work?

I can best answer this question with a quote from a CafePress Employee.. With a further addendum from me.

Who pays the customs, duties or taxes when items are shipped outside of the United States?
Currently, the recipient of the goods is responsible for any customs, duties or taxes levied on the goods by their local government.

What happens when I select the Gift Option for my international shipping destination? Does the recipient see the price of the products?
The package will still have an invoice inside of it, but it will not show any prices. However, we will also include a CN22 Form that will have a description of the goods and their retail price. The recipient will be required to pay any customs, duties or taxes levied on the goods.

Why does a CN22 Form have to be included with a Gift Option order?
Governments throughout the world have varying requirements and processes for importing goods into their territory. Many governments require some form of documentation for the import of goods, most of which require a description of the goods and the value of the goods. These documents can include commercial invoices, CN22 forms, US Certificate of Origin, Shipper's Declarations, and Export Declarations, to name a few.


What does this mean?
Well, It will vary somewhat what it means depending on where your gift recipient lives... I do NOT have all the details, unfortunately.

But lets say you choose to buy the "Holly Pegacorn Dark Tee shirt" to send to an out-of the US friend.

On the outside of the box there WILL be a label.
This label WILL state - Contents "Holly Pegacorn Dark Tee shirt" and will also show the price.
This can't be helped.. (mostly)
Government legalities require that that information be posted.

OK, CAT.. what do you mean by "Mostly" ?

Lets say you know you want to buy the "Holly Pegacorn Dark Tee Shirt" but you do not want your recipient to receive that much information about their gift.
Here's what I can do to help you.
Contact me with the exact item you wish to purchase.
I will duplicate that item temporarily with a generic name such as "Gift Apparel" (Apparel MUST be included if it is clothing)
A cash amount will still be shown, but the product name will not be... only the Generic name we add to the temporary product.

I still don't think the cash amount HAS to be on the box for the out of the US location I'm shipping too... What can I do?

If you believe CafePress's procedure is not necessary for shipping to your gift recipient's location, here is what you can do.

Have the item shipped to yourself (I would still have the 'gift' option selected so that you'll have a gift invoice to send to the recipient, in case of a necessary return due to sizes) then readdress it and send it out yourself.
This option has the benefit of; you can inspect your purchase to assure yourself of it's quality, and you can add in any small additions you choose to the gift. (Just keep in mind import regulations... Don't send foodstuffs to places prohibitting it!)

For more information from Cafepress, please see their
Online Customer Service Knowledge Base
.
My information on how these orders work was gleaned from a combination of there and searches through the cafepress forum, and conversations with other shopkeepers.
If you would like to place an order, and want to try my method of giving your gift a generic name, please
CONTACT ME!
I hope this information is helpful!
---
I'd like to get my pet's photo into your calendar.. How do I do that?

The first and most important thing is to get a good photo at a good size.
Here's an example showing a common problem, using my own dear Alley Cat.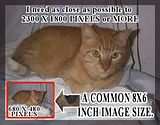 This is an example of both good and bad.
The subject, Alley Cat, takes up most of the picture, and is viewed from the same level.. not looking UP at him, or DOWN on him. That can look good too.. but not often.
There's a bit of empty space surrounding the subject... enough, but not too much. Pretty good composition. Much better than the average picture I take.
However, the bad is... Like many others, my photo started out too small.
See the little image in the corner? That's what I started out with.
The rest of the picture, where I enlarged the image, looks good on the screen...
But click on the image to see it in a larger size... then look at the arrow pointing to the photo on the left.
That's actual full size.. I reduced the rest of the image for online viewing. Can you tell what that is?
It's Alley's eye... just so pixelated it looks like nothing so much as a bunch of squares.
It would look even worse, printed onto a calendar... people would be returning it in droves!
So.. I need a big picture... BUT - and this is very important.. DON'T ENLARGE IT!
-- If you use a digital camera, see if there is a way to increase the 'resolution' or 'picture quality' in your camera preferences... If there is, choose the maximum setting. -- If there's not, see if a friend with a better camera would be willing to loan their camera, or take photos for you!
-- If you have old-style photographs.. you know.. the ones you hold in your hand, printed by a photo lab on Glossy paper, you can set a scanner to scan a large high -quality image of the photo.
Here is a link to a template showing the bare minimum size I can need... (I'd rather have one full or very close to it size kitty photo per page from this point forward..)
http://www.cafepress.com/content/help/img/templates/75_H_F.jpg
(I WILL take Slightly smaller than this when I have too.... so if your digital camera's maximum quality doesn't quite get this result for you, send it to me, and I'll see if I can use it.)
If you CAN get your photos up to THIS size:
http://www.cafepress.com/content/help/img/templates/162_H_B.jpg
it would be even better.
I currently have only one or two that will fit on this Oversized calendar... That's why I didn't release the oversized calendar in 2007.
If you need more information, let me know.. and let me know what kind of photograph we're working WITH..
I'll see what I can dig up for you.
Once you get an image and you want to see if it'll work - Email me at:
---
I know my photos are large enough! but they email small!

There's different possibilities that can cause this, and different possible fixes.
First off... If you are using MSN mail (Hotmail), you may be using the 'SEND PHOTO' option.
If so, don't. Use the 'SEND FILE' option, even though it IS a photo.

Not using MSN Mail?
Try this.
1st... In order to send a photo through unchanged, one possibility is compress the photo before your email can do it for you.
You computer should have a 'ZIP' or 'COMPRESSION' utility as part of it...
for this FAQ I'm assuming you have windows... Here's a visual "how-to" for zipping a file, in case you didn't already know.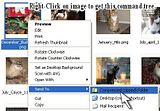 Zipping will make the file smaller in a repairable way, and keep your email server from doing it FOR you.
2nd... Another possibility is using a site such as :
http://www.4shared.com/
to temporarily host your file so I can get it..**

**(I haven't used this one yet, I lost all my shortcuts during a recent hard drive crash, and do not remember the name of the site I WAS using.. so I can't give you one I recommend. I havn't heard anything bad about this one yet, though.)

3rd..
Well, if these 2 choices don't work, let me know and I'll figure out a third. :)
CONTACT ME!
VAS group, I'm still adding here.. please come back soon!
---
---
Contact Me using my Email Form,
or Emailing me at:

---
---
MORE FAQ's coming SOON!! :)